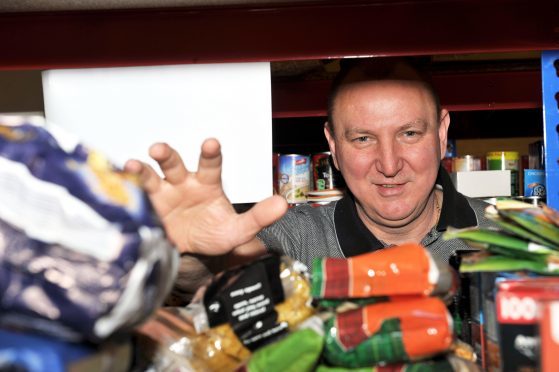 Volunteers at a Moray food bank have revealed a huge increase in referrals since last year – and fear the worst may still be to come.
Since the beginning of April, the Elgin centre has provided meal parcels to 839 adults, which is an increase of 28% from last year.
And the number of children being supported has surged to 361, a rise of 33%.
Yesterday, staff at the Moray Foodbank were busy putting together more parcels for people who have been referred to the service.
Gilbert Grieve, who collates statistics for the group, believes there will only be a greater demand on the service in the future.
He said: "It is the same story as we have been seeing for a number of years now. People are coming to us who are on low income or benefits and can't make ends meet.
"We tend to get hammered with referrals during the Christmas period, but also see an increase in generosity at the same time.
"The biggest concern for us is the roll-out of Universal Credit in Moray in April next year – we're anticipating a huge increase then due to possible gaps in benefits."
Every parcel distributed by the Elgin-based charity, which also has drop-off points in Forres, Aberlour and Keith, contains enough food to last three days.
Mr Grieve revealed the vast majority of people who come through the group's doors only need "one or two" packages to tide them through.
He added: "It's usually just a case of getting them back on their feet. We have about 20 people who have been getting long-term support, but they all have very specific circumstances."
Last night, Shona Morrison, co-leader of Moray Council's SNP group, bemoaned the "bleak picture" the statistics provided.
She said: "These really are significant rises. It's shocking in this day and age that low-paid employment is having this effect.
"These are people who are going out and working hard, but just can't make ends meet. It's really sad to hear that.
"As a party, we've got concerns about Universal Credit too. I just struggle to see how things are going to improve at the moment."