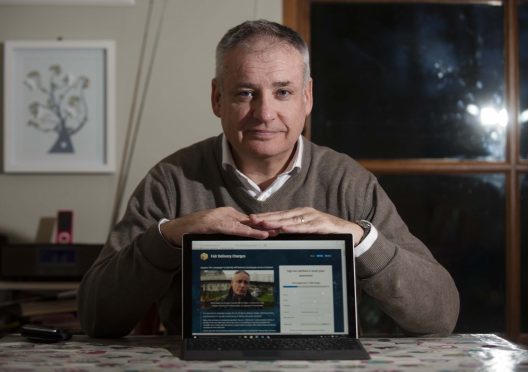 More than 1,200 people have backed a campaign to end "rip-off" parcel delivery charges across the north of Scotland.
Residents have pledged support for the drive after dozens of stories emerged of firms charging excess fees for Moray customers.
Richard Lochhead yesterday hailed "tremendous" support from across the country for his "name and shame" approach to companies exploiting rural residents.
Now the Moray MSP has lodged a motion with the Scottish Parliament to call on cross-party support following a debate at Holyrood on the subject next week.
He said: "Some of the surcharges really are eye-popping  – like a £32.99 fee to deliver a £7.49 order for a referee whistle and wallet to Elgin.
"A lady from Stonehaven has told me that she had a £70 surcharge slapped on her purchase because her home is in the 'Highlands'.
"There's no consistency. Some retailers charge extra to deliver to Elgin but not Speyside – and some charge for delivery to Speyside and not Elgin. Many retailers are simply taking the mickey."
Angry customers have also revealed that some firms have refused to deliver to Moray, Inverness and Caithness because it is not considered within "mainland UK".
Mr Lochhead launched the "fair delivery charges" online campaign in an effort to encourage people to share stories and force a change to legislation.
Regulator Ofcom is already working to understand the causes that result in excess fees being charged to customers to consider whether further action is necessary.
And Moray MP Douglas Ross is calling for an inquiry to be opened at Westminster to put a stop to the practice.
He said: "This problem affects many parts of the north-east and has gone on for too long. It's unacceptable and it's encouraging to see cross-party and strong public support to address it.
"I believe that a simple solution can be reached if companies and delivery firms worked better together. I believe there are innovative and collaborative solutions to the problem that could deliver real results."