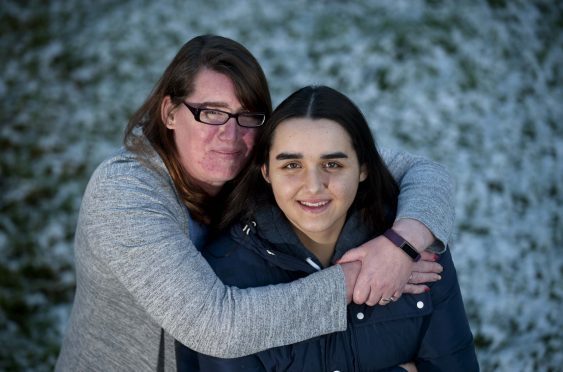 A schoolgirl who received her dream present when she underwent a life-changing liver transplant operation has been bringing festive cheer to those less fortunate than herself.
Christmas came early for Millie Nicoll in November, when she received the new organ.
The 15-year-old spent much of the year contending with worsening health, and had to endure countless days in hospital wards.
At one time, she feared that she would be consigned to a hospital bed on Christmas Day.
Since undergoing the transplant operation Millie is enjoying a new lease of life, but she has not forgotten about the children who are forced to spend the festive season at Dr Gray's Hospital in Elgin.
Throughout the year, she has raised hundreds of pounds by baking cakes in exchange for donations from her friends, and the Aberlour teenager has splashed out on treats that were shared among the children on the ward.
She said: "I managed to raise £233 by selling cakes and treats at Speyside High School.
"I feel like I have been lucky not to spend Christmas in hospital, and I think it must be awful for those who aren't so fortunate.
"I tried to aim my gifts more towards teenagers, as a lot of gifts are already donated to younger children."
Millie and her mum recently dropped off a sackful of goodies, such as gadgets to help when taking selfies, speakers and light-up message boards.
Dr Gray's general manager, Alasdair Pattinson, praised Millie's efforts.
He said: "We are all really touched by Millie's thoughtfulness.
"The gifts she picked out have been really well received on the ward, and we're delighted to hear how well she is doing following her operation."
Biliary atresia, an illness which damages the liver by causing bile ducts in the organ to become blocked, caused Millie's energy to plummet.
She was placed at the top of the waiting list for a transplant in July, but had to wait four months for the nine-hour procedure.
Millie was told that the replacement organ had been donated by a 19-year-old man, but was given no further information.
She believes more people should turn their attention towards giving a gift money can't buy this Christmas – by joining the organ donor register.
She added: "I would still be badly ill if not for the organ donor register."