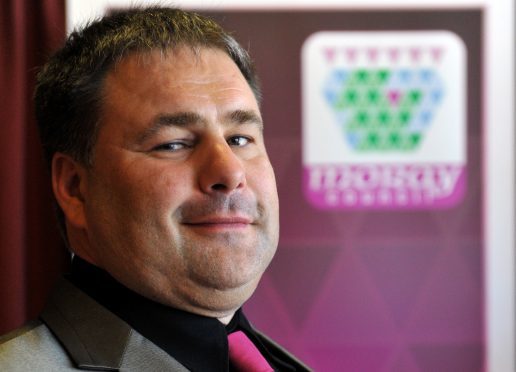 Moray Council has been thrown into disarray after a second member of the administration has quit in less than two weeks.
Independent councillor Ryan Edwards has resigned from the leading group just days before the authority's hard-hitting budget proposals are unveiled.
His decision comes just a week after Walter Wilson left the Conservative party due to "irreconcilable differences" about finance proposals.
Emergency talks were held between senior councillors yesterday ahead of the crucial talks next week.
Last night, council leader George Alexander and Conservative group leader Tim Eagle insisted the administration remained tenable despite it no longer commanding a majority in the chambers.
However, opposition members believe the latest resignation shows there is a "clear division" among the leading councillors.
When asked if he feared there would be more people leaving the administration group, Mr Alexander said: "I'm as confident as I can be."
The council leader has admitted budget proposals for the coming year will contain "unpalatable" proposals as the authority attempts to save about £14million.
But Mr Edwards, who will continue to represent Heldon and Laich, insisted his decision was motivated by "personal" reasons and not political decisions.
In a statement, he said: "At the start of this term, numbers were not favourable for a majority council and I felt a civic duty to the public of Moray to do my upmost to allow this council to move forward and be able to operate."
However he claimed that he had been the victim of personal "mud-slinging" and could no longer continue to be part of the Tory-Independent adminstration.
It is understood Mr Edwards will still support the ruling group though.
His statement added: "This council has very tough times ahead and very difficult decisions to make. Believe me, many of them will not sit favourably with many of us."
Mr Edwards declined to comment further yesterday.
All members of Moray Council are due to meet on Monday to debate budget proposals before they are made public.
This week Mr Alexander repeated warnings the authority was projected to go bankrupt in less than two years unless extra finance is freed up.
The administration, which is now made up of five independents and eight Conservatives, makes up half of the 26 seats.
However, its members still retain the casting vote for tied decisions because they hold senior positions on committees.
Mr Eagle insisted the remaining members remained "positive and committed" to agreeing a financial plan to balance the books.
He said: "It's not an ideal situation but Ryan has told us he still wants to work along with the administration – but for one particular reason feels he can't be in it.
"It's not the time to throw our hands up in the air. A huge amount of work has gone into the budget. This will only encourage us to be more open with the public and other councillors about it."
Mr Alexander added: "People might have stepped away from the administration but that doesn't necessarily mean they're not going to vote with us – they don't change their views overnight."
The SNP are the largest party in the chambers with nine members but it appears unlikely they will attempt a power-grab.
Co-leader Graham Leadbitter said: "There's clearly a mix of different views in the administration about what the best way forward is. It's apparent there is division and a lack of direction.
"At this time they really need to be providing leadership. I have no expectation that that will be happening any time soon.
"The SNP make up nine of the 26 seats and we will continue to provide constructive proposals and to scrutinise the work of the administration."