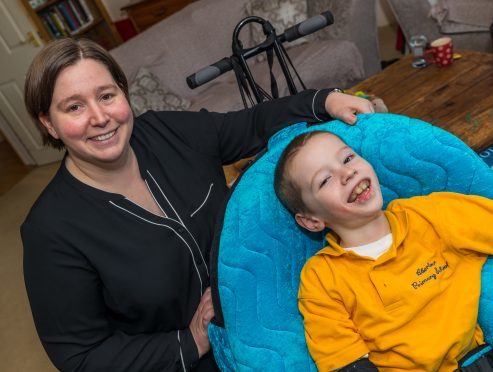 A mum believes a "lack of understanding" about disabilities has led to the Moray Sports Centre project missing out on a funding grant for specialist facilities.
Designers of the £12million complex, which has been proposed for the south of Elgin, have vowed to include the "changing places" facility in the new building.
The room has a height adjustable bench that is strong enough to support an adult and has enough room for a wheelchair.
Gillian Groves, who lives near Fogwatt, pressed for the changing room to be included in the design after resorting to changing her son Tom, who has cerebral palsy, on the floor of other disabled toilets.
However, the team behind the project have now been told they have been unsuccessful in a bid for up to £25,000 to pay for the facility.
Yesterday, a spokeswoman for Moray Sports Centre explained they were "very disappointed" but would continue to look for more funding options.
Mrs Groves has revealed that there is currently only two suitable toilets for her son in Elgin and believes an extra one would benefit a significant number of people in the region.
She said: "It's very disappointing. It really will make the sports centre a lot more accessible to a lot more people.
"Obviously people don't see it like that though – they just can't see how it will be a benefit to themselves or don't understand it until they're in the same situation.
"The good news is the sports centre is still passionate about including it. Hopefully this is just a hurdle to be overcome."
Moray Sports Centre had bid for up to £25,000 from the Aviva Community Fund to help pay for the facility.
However, despite winning the backing of more than 2,000 people it was overlooked for the support.
Meanwhile, the project has received a separate funding boost by winning £4,088 from the Co-op store in Lossiemouth.
Construction is expected to begin on the sports centre early next year and an operator for the building's cafe is currently being looked for.
A Moray Sports Centre spokeswoman said: "We're very disappointed we didn't win the funding bid but we will continue to look for other funding to add a changing places facility at the centre."