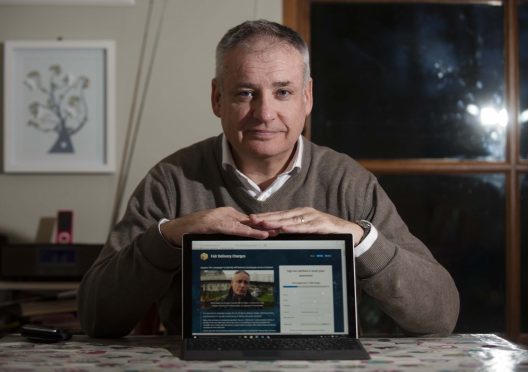 It's nearly a year to the day when I first raised in the Scottish Parliament a case of eye watering parcel delivery charges facing a constituent in Speyside, who was asked to pay £50 extra to have a £5.99 pair of hand towels delivered.
Many similar cases came to my attention and last month I launched a website www.fairdeliverycharges.scot, which has already attracted over 2,000 submissions from people and businesses, mainly from across the north of Scotland but beyond too.
They are all fed up with paying absurd surcharges imposed by some retailers when others are able to deliver free or for a modest cost. It's also worth noting that most north businesses don't surcharge for deliveries to the far south of England.
There is enough pressure on household budgets these days without a delivery tax for living in a rural area or the north of Scotland.
My parliamentary debate last week won cross party support and the Press and Journal has powerfully highlighted the many cases that have caused outrage.
Scottish Ministers have pledged action and now, significantly, UK ministers who have responsibility for regulating consumer protection and postal services have responded to the campaign by agreeing to review the behaviour of those retailers that discriminate against many customers on the basis of location. I'll be holding their feet to the fire.
Hopefully, this will be the last Christmas where Press and Journal readers find that online shopping runs the risk of having to pay these ridiculous parcel delivery surcharges.
It's a farce and in many cases downright illegal for retailers to exclude the north of Scotland from the definition of "UK mainland" and the fact that some label Moray or mainland Highland communities as "offshore" or classify them as islands is not only astonishing but displays geographical ignorance and laziness.
The current campaign started in Moray is now national and has captured the public imagination and the attention of the UK Government. Many others have picked up the cudgels over the years like Highland MP Drew Hendry, who attempts to take a members bill through Westminster, and Rebecca Wymer, who runs a business in John O'Groats who started her own petition.
All elected representatives will have come across this issue down the years but I reached the view that enough is enough and that's why I launched the campaign. I've been overwhelmed by the response and support. It's encouraging to see the public and all parties get behind it.
The momentum for action is unstoppable and hopefully we can all now agree it's time to stop the rip off delivery charges. Once and for all.