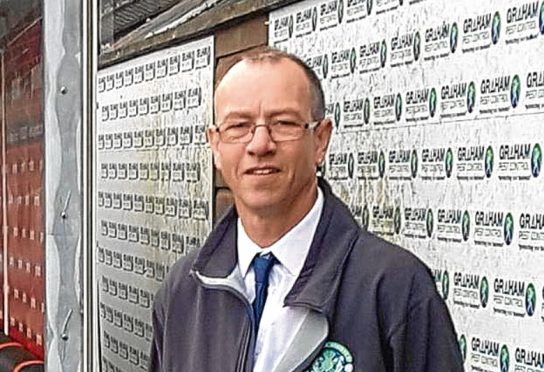 A community stalwart in a north-east town has died following a "freak accident" after he slipped on ice.
David Findlay, from Buckie, was killed after he hit his head after losing his balance near Aberlour.
Mr Findlay, who was better known as "Parro" , had been an integral part of Buckie Thistle for more than a decade and headed the team's youth development.
Yesterday, the 53-year-old was praised for being the bedrock behind the success that brought the club back-to-back Highland League titles in 2010 and 2011.
And the town's high school singled him out as the "driving force" for an event targeted at raising awareness about alcohol risks for youngsters while promoting fitness.
Last night Raymond Cardno, vice-president of Buckie Thistle, revealed the electrician, who was originally from Findochty, dedicated himself to nurturing the next generation of football talent in the town.
He said: "He was part of the furniture. He's one of the guys that never gets the limelight but his passion for the youths was boundless.
"He very much just wanted to give boys and girls of all ages and abilities the chance to play so hopefully they play for the first team one day, or maybe go on to even greater things.
"It'll probably take three or four people to make up for all the work that he did."
Mr Findlay's car became stuck on ice in countryside near Aberlour on Sunday evening.
The devoted family man, who has one son Jack, 18, is believed to have slipped while trying to get the vehicle moving again.
Moira Taylor, depute rector of Buckie High School, praised the enthusiasm of Mr Findlay to establish the school's Community Alert Day, which teaches students the benefits of fitness as well as the dangers of drugs and alcohol.
She said: "It was really born out of his passion for football, fitness and community spirit. Other schools are envious of the success of it, but it's down to him.
"He got the funding together every year for it, he was the driving force.
"His community spirit was really second to none, he'll be such a huge loss to everyone in Buckie."
As well as heading up the youth development setup at the football club, Mr Findlay was also manager of its women's team.
Last year, he guided Buckie Rovers to the North Superleague for the first time in their history by lifting a championship title during his time as manager there.
Marc Macrae, a former director of Buckie Thistle, said: "He's been football-daft for life. It sounds like it was a freak accident.
"I couldn't believe it when I heard.
"It would be tragic at any time of year but especially so, so near to Christmas." Buckie councillor Sonya Warren said: "He did such an amazing amount of work right through the town. He'll be missed hugely."
Former Buckie Thistle manager Gregg Carroll, who guided the club to back-to-back titles, added: "He was a really likeable guy. He did a lot of the work that helped Buckie be so successful when I was there.
"It's a massive loss. It'll leave a void, not just at the club, but across the whole town."