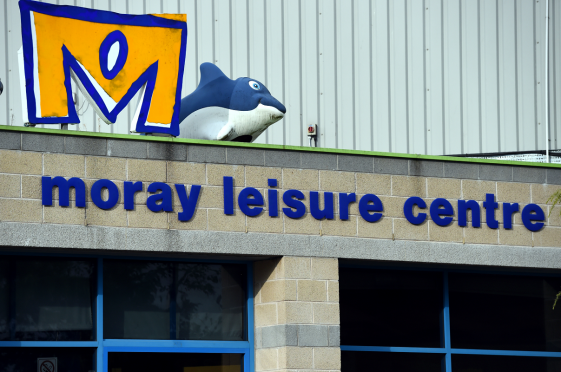 Struggling Moray Leisure Centre has been thrown a funding lifeline amid fears it would otherwise be closed by the end of the month.
Councillors held secret talks yesterday on the future of the troubled venue, as it emerged that an investigation has been launched into whether there were any failings that plunged it into financial crisis.
It is understood manager Steve Ash has been suspended while the probe is carried out, although he would not confirm or deny it last night.
The local authority funds the centre – which holds an ice rink, swimming pool and gym – to the tune of £698,000 every year.
And following crunch talks that lasted almost two hours, councillors have agreed to bring forward the monthly payment of £58,000 this month in order to spare the building from the imminent threat of closure.
Elected members also agreed to enlist outside help, understood to be leisure body High-Life Highland, to devise ways of redressing plummeting income and footfall figures.
A Moray Council spokesman said: "Councillors took steps to ensure Moray Leisure Centre can continue in operation, while a recovery plan is developed.
"The board had requested that the monthly instalment of the annual grant be brought forward in the month to assist with cash flow.
"This will mean the leisure centre should be able to continue operations for a set period while a recovery plan is devised.
"The meeting was held in private as commercial details and staffing matters were part of the discussion."
In late October, it emerged that running costs at the centre were "spiralling out of control" and that the prospect of it being forced to shut was growing more likely.
The centre's board of directors were forced to sign papers admitting that operators Moray Leisure Ltd would not have enough cash in its reserves to legally continue trading by next October.
One source close to the situation said the dire predicament had been mounting for more than a decade.
And they attributed the situation to a "breakdown of the relationship" between senior staff and the board of directors.
Three members of the previous board resigned last year following a string of arguments with bosses.
And emerged yesterday that, since Mr Ash was removed from his role as manager, two interim replacements have been signed off on "long-term sick".
When reached for comment, Mr Ash said he was unable to discuss the situation.
He said: "I'm outwith the centre at the moment, and I can't make any comment about it as it is a personnel matter."
Board member Martin Gray insisted the threat of Moray Leisure Centre closing had now been averted.
He added: "Our recovery plan has been fully supported by the council, and we are implementing it with immediate effect.
"We have consultants coming in in January, and a lot of work being done on the finances.
"There is a real high morale at the centre now, as we look to drive things forward."
Mr Gray added that new offers would be launched next month as a way of luring more customers in.
Fellow board member Gary Callow said the funding injection had got the centre "over the hill" and that staff would prove crucial in helping it to succeed.
He said: "The guys and girls who are there every day are the ones driving the change, and telling us how to better our service.
"We recently had a very well-attended staff meeting, which generated some fantastic ideas to make us more customer-focused."