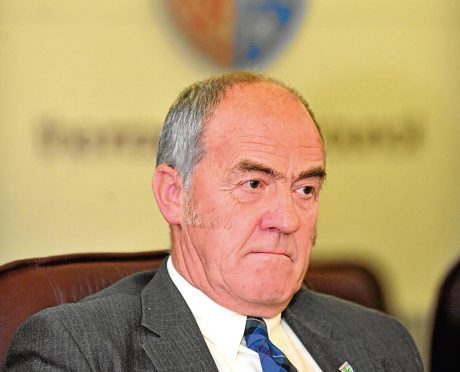 The leader of Moray Council has sparked speculation that more of his administration colleagues are poised to quit the ruling group.
The Tory-Independent coalition has been rocked by two shock departures over the past two months, and insiders have hinted that more could be forthcoming.
The full council met to reshuffle committees in light of the administration's membership being sliced yesterday.
But local authority leader George Alexander managed to persuade the majority of his fellow elected members to postpone the decision until after Christmas – by hinting that the administration's membership quota was far from certain.
He said: "I propose that we leave the numbers as they are just now.
"At this time of year we all go away and reflect on what we are supposed to be doing as councillors.
"We should come back in January reinvigorated, and having considered whether we wish to serve in the administration or not."
Mr Alexander also read out terms of the councillors' code of conduct, which stresses the need to act "in the interests of the council as a whole, and all the communities served by it".
A highly placed council insider later suggested that "at least two" members of the group were considering their future.
Councillor Walter Wilson walked away from the Conservative party and the administration over "brutal" savings proposals in late November.
And Independent councillor Ryan Edwards followed him out the door about a week later, citing "personal differences" with other members of the group.
The administration is now comprised of eight Tory councillors and five independents, while the SNP group has nine members.
There is one Labour councillor, and Mr Wilson and Mr Edwards now sit alongside Derek Ross as independents outwith the administration.
As per council policy, elected members met yesterday to discuss realigning its 17 boards and committees to reflect the altered political dynamics.
The SNP group argued in favour of a restructure whereby an extra independent councillor be added to the committees.
But Mr Alexander's suggestion that any changes be placed on hold was passed by the casting vote of convener, James Allan, after the two opposing motions tied at 12 votes apiece.
SNP group co-leader, Graham Leadbitter, described the situation as "undemocratic".