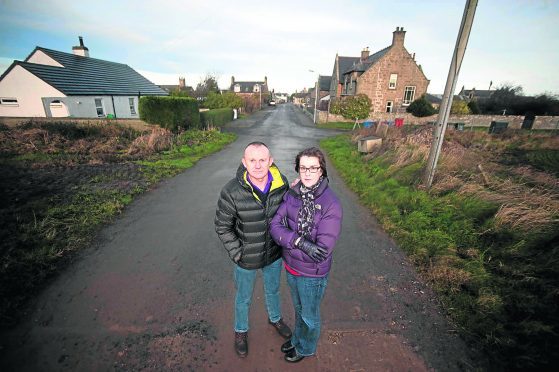 Moray villagers fear their homes are being left at risk of flooding while a wrangle over defence scheme is settled.
Housebuilder Springfield Properties has had plans approved to build a drainage scheme on fields to the south of Hopeman.
However, it is understood the firm will not build the channel for water to run into, and a defensive embankment, unless it is given permission to build 22 homes on Forsyth Street.
Meanwhile, Moray Council intends to complete designs for an £800,000 flood defence in the village – but the project has been put on hold until outside funding has been secured.
The hold-up with both schemes has left locals "anxious" there could be another repeat of the devastating floods from three years ago, which left some residents out of their homes for more than six months.
April Charlesworth, chairwoman of Hopeman Flood Action Group, said: "As far as Springfield are concerned they will only put something in if it's going to protect their homes, I can appreciate that.
"The biggest concern we have though is that there are big questions over how that one will be maintained – the water will just pour from the drain into a ditch near the golf course and be allowed to pour down there unmanaged. It's very overgrown there now.
"We would rather see the council come forward with a proper flood scheme – but there's no guarantees on when or if that will happen."
Springfield's proposal for the 22 homes attracted 254 objections amid fears it would open the door to larger developments, and was rejected by Moray Council in October.
But the flood protection scheme – which was put forward as a separate application – was approved at that same meeting.
Planners at Moray Council say the drainage scheme was only drawn up after concerns about flooding at the potential housing development were raised. Springfield is now appealing to the Scottish Government to allow the housing element to move forward.
During 2014, homes on Inverugie Road and Harbour Street were flooded after water poured off fields and down the streets towards the sea.
Springfield has proposed to dig a 121ft long, 9ft wide channel that is 4ft metres deep to boost the defences in the area to cover a "one in 200-year flood event". Plans also claim to account for a 20% increase in water volume due to climate change.
Mrs Charlesworth's husband, Jeff Povoas, said: "What we've been fighting for is a defence that protects the whole village, not just where the homes are built."
Moray Council intends to prepare the Hopeman defence plans to "shovel ready" status, meaning work could potentially begin once funding is secured.
Dave Ball, chairman of Hopeman Community Association, said: "It's wait-and-see at the moment. Flooding remains a real risk.
"I certainly don't think the council would commit to building its own flood scheme here until they know the outcome from Springfield's plans."
Springfield was approached to comment. However, a spokeswoman confirmed that nobody was available.