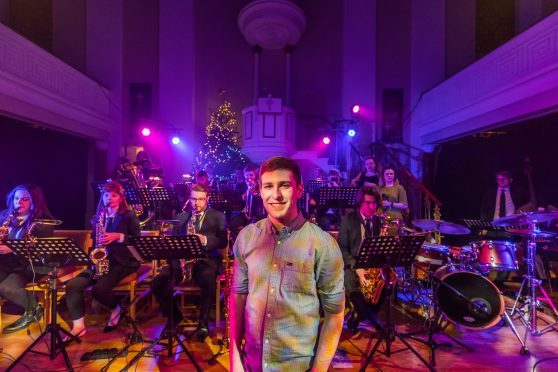 Plans to bring stars to Moray for a Christmas concert would be at risk if the council closes the region's largest entertainment venue.
West End musician Ryan Mackenzie has been building up the popularity of Let It Snow, a Christmas-themed big band concert, at Elgin's St Giles Church since 2015.
The ambitious 22-year-old wants to bring the event into a bigger venue and ultimately attract big names to the town as part of it.
But his dream – and plans for any other major events – would be at risk if Moray Council follows through on proposals to shut 1,000-capacity Elgin Town Hall as part of a package of budget cuts.
Mr Mackenzie has played piano for West End productions like Guys and Dolls, West Side Story and Mary Poppins.
And he recently finished writing an updated version of Starlight Express alongside Sir Andrew Lloyd Webber and Arlene Phillips.
The former Buckie High School pupil had been hoping to use his newfound industry connections to bring star performers to Moray, but fears that may now be impossible.
He said: "There are amateur productions, but not many professional shows come to Moray.
"For us, it is really important that we make sure quality performers come here and the proposed closure of Elgin Town Hall is a big disappointment.
"I played there loads when I was younger, before I left it was like a second home to me."
Musicians from all over the UK played jazzy versions of Christmas classics in the town over the past two nights for Let it Snow, raising money for the MND Scotland charity.
Mr Mackenzie added: "We want to move it to the Town Hall as St Giles Church isn't big enough.
"If it closes, then there are no venues in Moray of the size required for a professional standard show.
"I had hoped to eventually bring visiting artists like Elaine Paige to play here as part of Let it Snow, but that just would not be possible."
Moray MSP Richard Lochhead said that Let it Snow being stymied would just be one adverse effect of the hall's closure.
He added: "There is no way that the closure of Elgin Town Hall can ever be contemplated, especially without there being an equivalent alternative in place.
"Many community groups and schools depend upon it, and it is the only venue in Moray that can be used for organisations like the Scottish Opera – which recently staged a successful show there.
"Importantly, it hosts many charity events which raise significant funds."
The Lantern of the North music group,  fears the hall could be mothballed and "left to rot" if nothing is done.
Members are now leading efforts to transfer the building into the hands of the community and ensure its future.
Group director Barry Jarvis last night said that the campaign had picked up momentum over the past few days.
He added: "Folk believe it should be more successful than it is, and that is something we think could happen if it is controlled by a community group which will focus purely on promoting it."
Moray Council is consulting the public on plans to close a slew of community halls across the area as the authority battles to slash £6.7million from its budget over the next year.