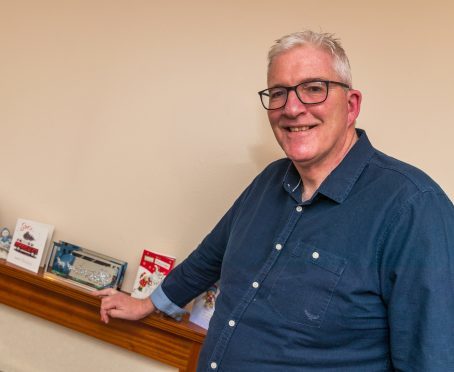 A motorist whose car careered down a 40ft embankment feared he may remain undiscovered for hours – until he was rescued by a passing council gritter driver.
John Dermody was driving home in the snow to Newcastle through the Highlands after having spent Christmas with his family in Moray.
While travelling near Ferness, south of Nairn, the 59-year-old lost control of his car which crashed through a fence before rolling down the slope into a stream.
Yesterday Mr Dermody, a retired health and safety manager, revealed he was clueless as to his location as he tried to guide emergency services to his stricken Hyundai, which he bought just one month ago.
All he could tell them was that he was "in the middle of nowhere".
However Derek Reid, from Nairn, spotted the damaged car through the trees while treating the road for Highland Council and rushed knee-deep into water to his aid.
Mr Dermody said: "All I remember is that it was snowing. I must have hit some ice and the wheels just wouldn't respond.
"I remember phoning 999 but I didn't know what to tell them. The next thing I saw was a figure coming into the water to check I was alright – he knew exactly where I was and told the emergency services.
"Without him, I don't know how long it would have taken them to find me. I might have still been there the next day. I'm glad he got there when he did, the pain was unbearable."
After comforting Mr Dermody until emergency services arrived, the council worker left the scene to allow medics to care for him.
The driver was taken to Raigmore Hospital in Inverness before being discharged about 10 hours later to continue his recovery at his daughter, Kerri Dougan's, home in Lossiemouth.
The Englishman's family launched a social media search for Mr Reid so they could thank him personally.
Mr Dermody added: "My daughters tracked him down. I've not spoken to him yet because of his shifts but I would love to say 'thank you' to him.
"I was shot up and in pieces when it happened and then he just walked away. He was absolutely brilliant, so were the emergency services. The firemen even went down the slope to get my stuff from the car."
It is understood that Mr Dermody used his car's hazard lights and headlights to try and get attention from the bottom of the embankment.
Yesterday, police confirmed the accident happened about a mile east of Ferness on the B9007 Carrbridge road at about 8am on Wednesday.
Mr Reid said: "I probably wouldn't have seen him if I was just in a car, the indicator caught my attention. He didn't have a clue where he was, neither did the operator, but I was able to give directions.
"Doing winter maintenance, you come across people trapped in cars regularly – that was the third one this year. I would feel worse if I didn't stop knowing that somebody might have been in it."
Mrs Dougan added: "We're just absolutely lost for words, so grateful. That man could easily have carried on but just for that split second thought something was wrong.
"If he hadn't have done that then I would hate to think what would have happened."