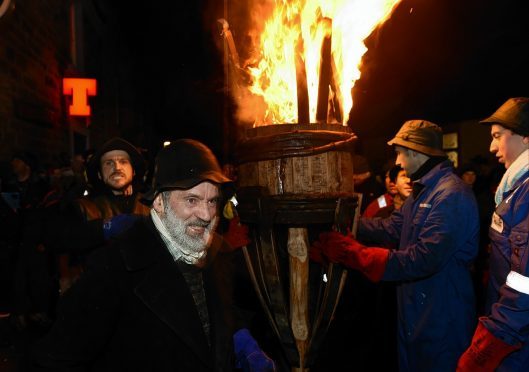 A lot changes in 30 years, as the transformation in how people live today compared to the 1980s proves.
But for Dan Ralph, who will mark his 30th year in charge of a traditional Moray fire festival next week, keeping things the same could not be more important.
Mr Ralph ensures that the Burghead's Burning of the Clavie – which dates back to 400AD, when the village was the capital of the ancient Pictish kingdom – remains untouched by modernity.
The fiery spectacle takes place every January 11, and excitement is building for the forthcoming instalment next Thursday night.
Mr Ralph serves as the figurehead of the festival, known as the Clavie King, and parades the burning barrel of staves around the village along with his 20-strong Clavie Crew.
He says he is proud of the fact that, while all around it has changed, the "focal point of the Burghead calendar" strictly adheres to its medieval roots.
Mr Ralph said: "We keep it as traditional and pure as we can, I believe our reluctance to allow much in the way of change is why it has survived.
"We have kept this ancient ceremony going while making the effort to keep it as original as possible, while some other fire festivals have moved with the times and become more grand."
Mr Ralph, who has now been a crew member for 52 years, said the event's "one concession to progress" was the creation of a team of stewards to ensure onlookers are kept at a safe distance from the flaming cask.
He added: "The only thing we can't be sure of is the weather, but we have completed the Clavie's journey in 123mph winds before.
"The only reason it has ever been cancelled is the outbreak of World War II."
The Clavie, a 100kg barrel filled with wood and tar and mounted on a large post, also carries some superstition.
Villagers believe that receiving blackened staves from the vessel brings luck for the coming year, and pieces are sent to expat Brochers worldwide.
The barrel is paraded through Burghead before being placed on the summit of Doorie Hill.
The event is a celebration of the ancient Scots Hogmanay, which fell on January 11 before the Gregorian calendar was introduced in Britain in the 18th century.