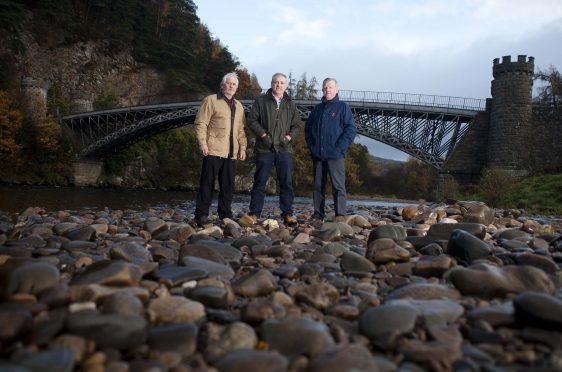 Speyside campaigners are determined to take a step closer to solving the mystery of who owns a world-famous landmark.
Locals want to raise funds for a £450,000 restoration of the Craigellachie Bridge to safeguard it for future generations.
Their proposals have previously been put on hold, because the group cannot ascertain who is responsible for the 200-year-old cast-iron crossing, which is synonymous with the whisky industry.
Campaigners search for owner of one of Scotland's most iconic bridges
Without knowing to whom the landmark belongs, the Friends of Craigellachie Bridge group has been unable to unlock funding avenues to pay for repairs.
But now, Moray Council has been asked to review its own records to establish whether it does own the bridge.
The local authority has denied holding ownership records, but has accepted it is responsible for the upkeep of the footpath on the structure.
However, Moray MSP Richard Lochhead has uncovered historical records from the 1970s which suggest the bridge was the responsibility of the former Joint County Council of Moray and Nairn: a predecessor of the current Moray Council.
Mr Lochhead said: "According to the National Records, the council does indeed own the famous bridge. Hopefully, we can now move forward and reach an arrangement that allows the community to have a greater say over its future.
"The local community is ready and willing to take on a greater role, but needs the ability to apply for grants and other forms of support.
"I hope the council is able to resolve the mystery of ownership so the Friends of Craigellachie Bridge can move to the next stage of its plans."
The crossing cost about £8,000, which was raised by public donations, when it was built in 1814.
The bridge is celebrated on a par with the Golden Gate Bridge in California as a "civil engineering landmark" by the American Society of Civil Engineers. It has grade-A listed status with Historic Environment Scotland.
Friends of Craigellachie Bridge trustee Jock Anderson said: "We have had a lot of people get in touch with us to help find the owners. It has certainly gathered a bit of momentum in recent months."
Yesterday, Moray Council repeated its position that it held "no records" about the ownership of the bridge.