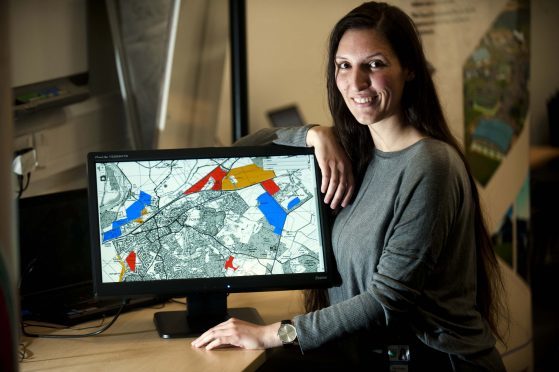 Space for 7,000 new homes and more than 100 acres of land for businesses have been included in a glimpse 20 years into Moray's future.
The council has prepared a blueprint for towns and villages across the region to guide developers to suitable ground.
Yesterday planners opened the documents to a consultation for the first time ahead of a series of events with the public.
Principal planning officer Gary Templeton explained that a focus has been made on encouraging growth outside the main towns.
He said: "At the moment about 350 houses are built in Moray every year – about 150 in Elgin, 60 to 70 in Forres and about 50 in Buckie.
"Speyside and Keith is much slower. No sites have been completed there so we need to look at how we make them financially viable for developers so the sites are delivered and not dormant.
"There is a big shortage of employment land. We need to allow the space for existing firms to grow as well as attract others into Moray."
The council's proposals to be included in the local development plan is expected to become policy in 2020 and guide proposals until 2035.
Housing sites have been identified on the west side of Buckie, space for up to 100 homes on the south side of Findochty has been earmarked and up to 60 houses could be built at Clarkly Hill in Burghead.
Meanwhile, land for business use could be set aside to the south of Elgin next to the A941 Rothes road and at Mosstodloch.
The need for a new health centre has been identified in the south of Elgin and Fochabers as well as extensions to existing practices in the town and in Forres, Buckie, Rothes and Dufftown.
Land has also been marked for a replacement to the Keith Health Centre near the town's secondary school.
Demand for three new primary schools has been identified in Elgin, two to the south and one to the north, as well as one in Forres. A "Three to 18 campus" encompassing primary and secondary pupils has been recommended for Buckie.
Marc Macrae, chairman of the council's planning committee, said: "We need to look at how big we want places to go. Forres is potentially at the limit its infrastructure can cope with.
"The land that has been highlighted shows the growth that could be there and the demand there is to live and work in Moray."
New rural settlements have been identified in Moray Council's planning proposals to curb sporadic countryside developments.
Planners have set aside locations for housing outside the larger villages at Birnie, Buthill and Miltonhill near Roseisle and Orton near Rothes, among others.
Yesterday, principal planning officer Gary Templeton explained it was important to "control" locations that were developed.
He said: "Taking Rafford as an example, we have a site there for 10 accessible houses which has not come forward. Whereas there has been in the countryside around it. It's not sustainable.
"If we can encourage development and control it in defined settlements then we can promote better design and reduce the impact on the environment."
The proposals included in the council's 93-page blueprint will now be subject to a public consultation over the coming months.
Council leader George Alexander said: "We are obliged to look at the land that is being made available for housing and industrial purposes. It's not an easy task, which is why people should look at it themselves."
The first consultation event will be at Aberlour's Fleming Hall on Wednesday. Events follow at Elgin Town Hall on Tuesday, January 23, Buckie's Fisherman's Hall on Wednesday, January 31, Fochabers Institute on Tuesday, February 6, Lossiemouth Town Hall on Thursday, February 15, Dufftown's Mortlach Memorial Hall on Wednesday, February 21, Forres Town Hall on Thursday, March 8, Keith's Longmore Hall on Tuesday, March 13. All sessions run from 2pm to 8pm.
The final event will be at St Giles' Church in Elgin on Saturday, March 17 from 9.30am to 4pm.