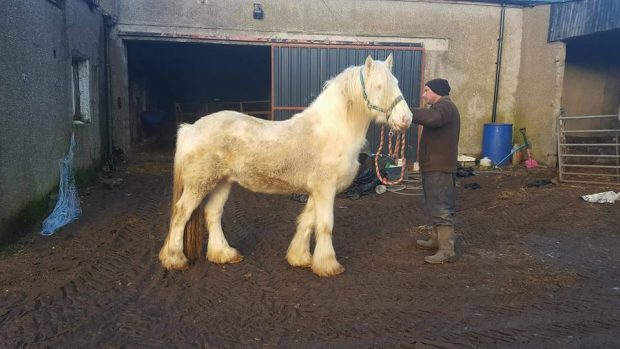 A stallion has been stolen from a Speyside farm by thieves who struck under the cover of darkness.
Raiders "kicked off" rails to open a padlocked gate at Blackhillock Farm, near Knockando, and loaded the horse onto a trailer.
Yesterday, police issued an appeal for witnesses in an attempt to track down the animal, which is called "Polo" – and refused to rule out fears it could be linked to other thefts in the Aberlour area.
Farmer Alan Cormack, who estimates the horse is worth £3,500, revealed the thieves struck less than 20ft from his home before leading the stallion to a waiting vehicle.
He said: "When I came out the front door in the morning I could see the gate was pushed in the way – if he's escaped it would be out the way.
"I could see hoof prints going down the road with foot prints. At the gate the rails had been kicked off so they could open it with the padlocks still on.
"Halfway down there were marks from a vehicle of some description, which had a trailer. That's where the prints stopped."
Three other horses were kept in the farm shed but Polo was the only one that was taken.
Police have revealed a quad bike and farm equipment were also stolen at the same time, overnight between Sunday and Monday, from rural properties near Aberlour.
Last night, Speyside Glenlivet councillor Louise Laing urged homeowners to take extra precautions to protect their belongings.
She said: "It's a shame that people see the dark nights as an opportunity to commit crime."
Constable Andy Main added: "We have received a report regarding the theft of a horse and separately the theft of a quad bike and agricultural equipment from rural properties in the Aberlour area.
"The incidents are believed to have happened overnight between Sunday and Monday.
"We are keeping an open mind as to whether these incidents are linked and would ask that anyone who has information or saw anything suspicious to contact us."
Anyone with information should contact police by phoning 101.