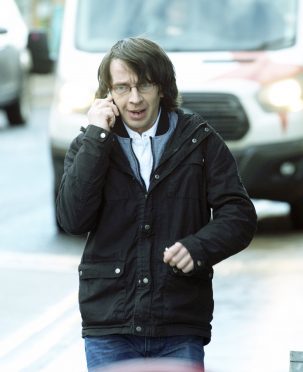 A motorist who smashed into the side of a house after "smoking two joints" has been banned from the roads for four years.
David Coull's lost control of his car and crashed into the side of the property on Cullen's North Castle Street.
The impact created large cracks in the stonework, with some parts of the wall becoming loose and crashing to the ground.
Scratches were also left along the side of the building.
Yesterday the motorist, who lives in the town, appeared in Elgin Sheriff Court for sentencing after he admitted driving while unfit through drink or drugs.
Witnesses saw the 36-year-old's car driving "too fast" in the town shortly after 9pm on December 20 last year.
Fiscal Kevin Corrins said almost as soon as locals became concerned about the car it disappeared from view – before being immediately followed by a "loud bang".
He said: "The car has collided with a house there. A number of other people are attracted by the sound and come up the street.
"When the accused exited the car he appeared to be under the influence of something.
"Police arrive fairly quickly. The accused is spoken to and at that stage he voluntarily states he had been smoking cannabis. He said 'I had two joints earlier in the day.'"
Mr Corrins added: "Police see the car has become lodged in the supporting wall of the house, which has been substantially damaged."
Officers described Coull's speech as "slurred" while noticing that he "smelt strongly" of cannabis.
When they told him he was being arrested for driving while under the influence of drugs, he replied "What drugs?"
Coull, of North Deskford Street, admitted driving carelessly by going at excess speeds and failing to keep his vehicle under proper control, which caused the car to leave the road and collide with the house, causing extensive damage, and driving while unfit through drink or drugs.
Defence solicitor Robert Cruickshank described his client, who is a former plant operator, as a "cannabis addict" who had struggled to combat his dependence on the drug.
He added: "He was convicted of a similar offence two years ago."
As well as the four-year ban, Coull, of North Deskford Street, Cullen, was also orded to carry out 100 hours of unpaid work and put on a four-month curfew.