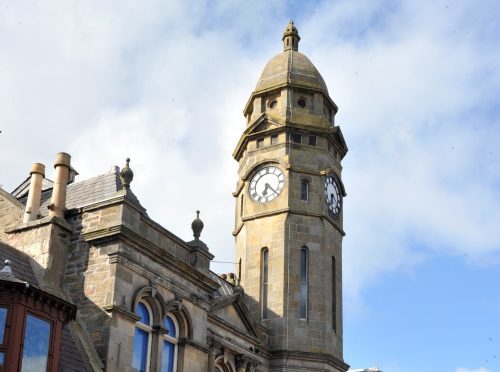 A Moray landmark has been put up for sale after the cash-strapped council could no longer afford to keep up with repairs.
The doors at Keith Institute closed nearly six years ago due to the crumbling condition of the former local authority offices.
A £166,000 restoration package had been drawn up to bring the Mid Street focal point back into use in the town.
However, the plans were scrapped when Historic Scotland pulled out after a viable group could not be found to take it over once the work was done.
Now Moray Council is inviting bids for the B-listed landmark with an octagonal clock tower which has been a fixture in the town since 1886.
Planners believe the upper floors of the beloved building could become an entertainment venue, office space or a home – as long as the ground floor remains primarily for visiting members of the public.
Last night, Keith and Cullen councillor Donald Gatt believed the Institute could yet play an important role in the town.
He said: "I arranged to have a look at it last year. It's a lovely old building. It's still wind and water tight but needs a bit of money spent on it to make it fit for whatever purpose.
"If a developer came in with a bit of imagination to do something with the interior then it could be a success. It's in the right place, right on Mid Street.
"The massive hall is a real fixture. However, I think one of the problems with it would be that it's got very high ceilings."
When the restoration hopes for the Institute were taken off the table in 2016, the council decided to sell it off after agreeing the £76,000 they had set aside for repairs was not enough to make any difference to the structure.
The building is currently laid out with officers and storage on the ground and first floors with the large former council chamber located at the rear of the building.