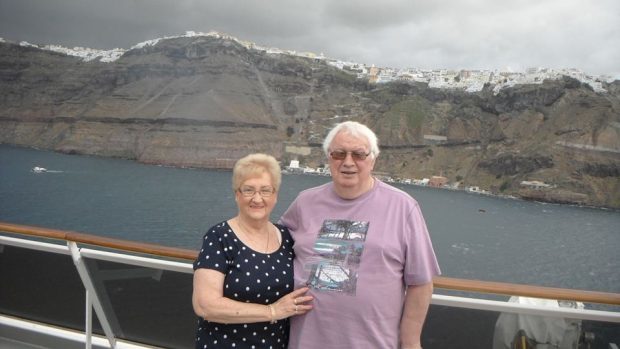 A pensioner has broken his back and pelvis after falling down an escalator as he desperately searched for a toilet.
Alistair Grant, from Elgin, can only walk with the help of a stick after suffering two strokes.
The 76-year-old visited Tui, formerly known as Thomson, on the town's High Street with his wife, Anne, to book a dream trip to the Greek Islands.
As his wife parked the car – having dropped him off at the door – he realised he needed the loo.
He was unable to use Tui's staff toilet however, and was directed to the nearest ones in the St Giles' Centre.
But the Bishopmill resident then fell down the shopping centre's escalator after losing his balance – breaking a vertebrae in his back and his pelvis on both sides.
Customers and staff at the shopping centre cafe ran to Mr Grant's aid, who was able to tell them his wife was waiting in the travel agents.
Mr Grant, who is currently in a high-dependency bed at Dr Gray's, has been told he now faces a six-week stay in hospital to recover.
It is expected that he will have to be transported to Aberdeen for an operation.
Tui were unable to let him use their loo, as due to "security reasons" customers are not allowed to use it.
Last night, his daughter Julie McMillan said it was disappointing.
She added: "He's registered as disabled. A couple of strokes have left him unstable on his feet. He can't walk properly, he just sort of shuffles along with his stick and gets tired easily.
"We have a pin-coded toilet at my work but we allow people to use it – the elderly, pregnant women, people with disabilities."
Last night, a Tui spokeswoman said: "We're very sorry to hear of Mr Grant's accident, which occurred after he left our store.
"Unfortunately we do not have customer toilets in our Elgin store and for security reasons we're unable to allow customers access to staff-only areas of the shop."
Crohn's and Colitis UK is campaigning to encourage retailers to be "more understanding" about the toilet needs of people with disabilities.
Public affairs officer Andy McGuinness said: "What we have found is that in some instances it's not appropriate to use toilets on retail premises for operational reasons – you maybe have to go through a warehouse or similar – but in about 98% of the cases it is simply a case of a lack of empathy or awareness.
"We think that retailers very much have a duty to their customers."