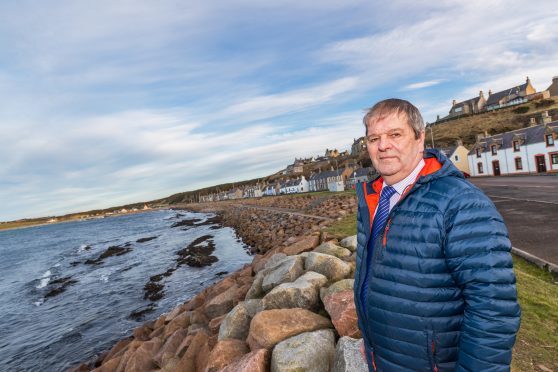 A Moray councillor fears a coastal community which has flooded three times in five years is being left at risk of further devastation – because it is not classed as "vulnerable".
A stretch of homes in Portessie has been repeatedly washed out in recent years by high tides hitting the village.
Yesterday, Moray Council agreed to draw up business cases for flood defences at Seatown in Lossiemouth and at Portgordon.
However, Buckie councillor Gordon Cowie hit out at criteria that has resulted in Portessie not being considered for a similar scheme yet.
Council official Debbie Halliday explained the local authority has pressed Sepa to consider classing the village and Hopeman as "potentially vulnerable areas" but rules at the agency mean areas where less than 50 homes are affected cannot be considered.
Mr Cowie said: "It's annoying. I feel for the people living there. Sepa seem to think that Portessie is low risk – try telling that to the people who have been flooded three times.
"There's about 18 homes there at risk and every time it's stormy or the tide is high then they get worried.
"I can't understand how they don't fit the criteria."
A report to yesterday's meeting of the council's economic development and infrastructure explained about 180 properties at Seatown could be "inundated" from a flood.
Options to be considered for a defence include an earth embankment, a concrete wall, raising the road or a flood gate.
Poor drainage has been found to contribute to waves spilling over the top of defensive walls at Portgordon.
Public consultations will now be run next month about both sites before a final decision on the design is chosen.
Mike Mulholland, chairman of Lossiemouth Community Council, said: "It's very low-lying at Seatown. It's come close a couple of times to flooding.
"If it ever did then it would have a catastrophic effect, obviously on the homes but also on house prices and insurance costs for decades. It's a relief to hear something is being done."
Meanwhile, nine locations were approved to have business cases drawn up for plans to defend against surface water flooding. They are in Elgin at Borough Briggs, Station Road, High Street, Alexandra Road, Morriston Road and Linkwood Road, in Buckie at Rathburn Road and Sutherland Crescent and in Rothes at New Street North.