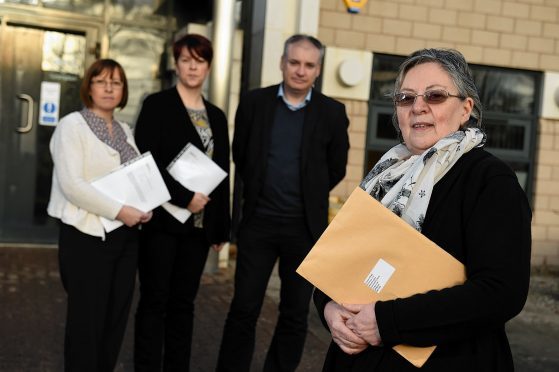 A brave Moray family's "grit and determination" has paved the way for a major overhaul of mortuary services across Scotland.
The loved ones of Frank Whyte from Forres yesterday won their campaign to ensure that no other family has to endure their "gut-wrenching" experience of local facilities.
New mortuary plans revealed after grieving Moray family campaigns for changes
Scottish ministers have committed to significant improvements across the country following a review that was set up in response to the family's concerns.
Mr Whyte's widow, Maryan, welcomed the decision last night, and pledged to continue to work to ensure everyone can be "proud of the way in which we treat our deceased, our bereaved, and the professionals who are engaged at the conclusion of life".
Mr Whyte died, aged 69, in a sailing accident at Findhorn Bay in May 2016 , and his family said their ordeal was made more painful by the grim surroundings where they had to identify his body.
Following the family's campaign, the Mortuary Review Group Report yesterday recommended that the country's three non-NHS facilities that currently provide Crown Office and Procurator Fiscal Service post mortem exams – in Aberdeen, Dundee and Edinburgh – should move under the control of health boards.
The review group also said that national mortuary standards should be developed to monitor all facilities, and that a protocol should be agreed for raising concerns and complaints.
Distraught family had to enter derelict mortuary through garage door to identify loved one
Public Health Minister Aileen Campbell ordered the agencies involved to "push this forward and ensure people are getting the service they deserve".
She added: "This would not have happened without Whyte family bravely sharing their painful experience with us."
Welcoming the announcement, Mrs Whyte said: "Our own experience left us with such feelings of disgust and desolation, gut-wrenching memories which no-one should have when we come to that most final of goodbyes.
"As a family we can't say enough in our thanks to MSP Richard Lochhead for his unwavering support and kindness at all stages throughout our campaign.
"We hugely appreciate our Public Health Minister Aileen Campbell for taking such swift, appropriate action to bring about a basis for the future mortuary service across Scotland."
Moray MSP Mr Lochhead said: "The family's efforts made this a national issue and have secured significant improvements with all of Scotland's mortuaries now having to adhere to appropriate standards to ensure the needs of bereaving families, the deceased and staff are recognised and reflected.
"This is an important part of Frank Whyte's legacy. It is only because of the family's grit and determination, and the support they won from across Scotland that this victory has been won and hopefully once the recommendations are implemented no more families will have to go through the same experiences as the Whyte family or others who shared their concerns."