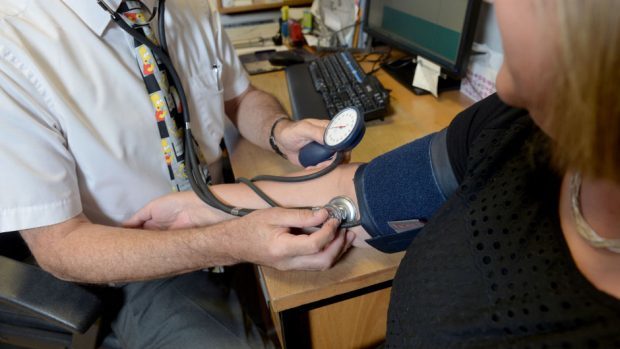 Scottish ministers agreed a controversial new GP contract despite being warned by a top adviser that it represented a "drastic and inexplicable" raid on rural doctors.
And concerns were raised with senior officials that £23million of taxpayers money was being used to "secure the vote" and "influence" urban GPs to support the changes at the detriment of their counterparts in areas such as the north of Scotland.
The revelations emerged from a letter that was sent to a senior Scottish Government official by Dr Helene Irvine, a consultant in public health medicine at NHS Greater Glasgow and Clyde, and a member NHS Scotland's technical advisory group on resource allocation (Tagra).
The explosive memo, which was sent on January 17 and was obtained by the Press and Journal last night, outlines her "major concerns" about the new GP contract drawn up by the Holyrood government and the British Medical Association (BMA).
Dr Irvine claimed that funding changes in the agreement represented an "accounting raid on the funding of rural general practice".
She said: "In my view, this was drastic and inexplicable and was never alluded to, never mind debated, within the Tagra oversight of the SAF (Scottish Allocation Formula) Review.
"Given that existing data sources suggest that personal income is lower amongst rural GPs than urban GPs and that GP numbers are falling far faster in rural than in urban areas, probably as a result of personal income differentials, it seems counter-intuitive to alienate the rural GPs in this way."
Just one day after the date on the letter, the Scottish Government announced that it was implementing the new contract, with the deal having been backed by 71% of GPs, on a vote that had a turnout of below 40%.
But Dr Irvine suggested that the poll was swung by offering city-based GPs more money, at the expense of rural doctors.
"It is quite extraordinary that £23million worth of public monies can be used to influence GPs to vote for a new contract that should be judged on the basis of its own merits," she said.
"The fact that 68% of partners belonging to 63% of practices, most of which are urban, received increases in funding raises the possibility that negotiators are using the SWAF (Scottish Workload Allocation Formula) to secure the vote and the smaller group of rural GPs were universally disadvantaged to achieve that.
"The increasing concerns expressed by rural GPs reinforces my worry about this decision to redistribute resources."
Urging NHS bosses to "go back to the drawing board", Dr Irvine also warned that the new arrangements were likely to shift "very small sums to the most deprived practices", meaning that "inequality will simply continue to widen", and that the combination of factors had left "many GPs extremely disillusioned".
The letter was addressed to Andrew Scott, director for population health and primary care at the Scottish Government.
Island GP David Hogg, who is based in Arran and is chairman of the Rural GP Association of Scotland, said: "We think this is pretty damning.
"We also think it confirms a lot of our fears about how the formula was devised.
"Helene Irvine is very respected and we have a lot of respect for her for sticking her neck out."
Health Secretary Shona Robison said it was an "historic" agreement that would ensure GPs are able to spend more time with patients and less on bureaucracy, however.
Last night, a Scottish Government spokesman said: "No practice in Scotland – rural or otherwise – will experience a reduction in funding as a result of the new contract.
"The new formula has been accompanied by a long-term income guarantee that applies to all practices.
"Furthermore, we have committed to invest £7.5million, including £850,000 in increased support to expand the remote and rural incentive scheme and relocation funds – encouraging GPs to move to, and remain in rural areas."
Dr Alan McDevitt, chairman of BMA Scotland's GP Committee, said: "The new contract addresses the relative underfunding of practice workloads associated with elderly and deprived populations, while ensuring that the finances of every practice are protected.
"It will reduce the business risks faced by GPs, address spiralling workload demands, and help to encourage more doctors to choose careers in general practice."
The new GP contract
The contract aims to refocus the GP role as expert medical generalists.
It will require some tasks currently carried out by GPs to be taken by members of a wider primary care team.
These include vaccination services, pharmacotherapy services, community treatment and care services, urgent care services, acute musculoskeletal physiotherapy services, community mental health and community link worker services.
Former NHS Highland chairman and retired GP Michael Foxley has warned that breaking the link with GPs and requiring travel to regional centres will inevitably result in fewer poorer families having their children immunised in rural areas, leading to a rise in illness.
The funding of general practice will also be reformed, with phase one featuring a new funding formula aimed at better reflecting practice workload, however critics say it is based on number of appointments and does not take account of issues in rural areas such as patient and doctor travel.
A new practice income guarantee will aim to offer stability, with an additional £23million invested to improve services for patients where workload is highest.
The contract introduces a new minimum earnings expectation to ensure no GP partner earns less than £80,430, including pension contributions.
A new GP Premises Sustainability Fund will be established, with an additional £30million investment over the next three years, to support a long term shift that moves towards a model which does not presume GPs own their own premises.
A National Code of Practice for GP premises sets out how the Scottish Government will achieve a significant transfer away from GPs of the risk of providing premises.
NHS boards will gradually take on the responsibility from GP contractors for negotiating and entering into leases for GP practice premises.