Hundreds of anglers gathered on the banks of the fast-flowing River Spey to open this year's salmon season.
An entire bottle of 16-year-old whisky from Aberlour Distillery was poured into the torrent yesterday to celebrate the occasion in the village.
Within seconds, the first fishermen were wading into the river from the snow-covered Alice Littler Park to be the first to catch a salmon in 2018.
During the ceremony, Reverend Bob Anderson blessed the Spey and all those who earn their living off it in the hope of a successful season.
Evelyn Grant, from Fochabers, had the honour of emptying the bottle of malt into the river after catching the first salmon last year while piper Alan Sinclair saluted.
Moray Lord Lieutenant Grenville Johnston, a former Spey Fishery Board member and founding member of the River Spey Angling Association, who was guest of honour for the occasion, praised conservation efforts for keeping the sport alive.
He said: "I was about 12 when I caught my first fish at Gordon Castle, I still have the photograph to prove it too.
"There is certainly an enviable record of conservation on the Spey. Sadly, we can't control what goes on out at sea and I suspect nature has something to do with that.
"The main thing though is that it's a sport of relaxation and skill that still pulls people together."
Lt Col Johnston stressed that anglers had the power to make their own contribution to the appeal of the river by clearing rubbish from the banks while they fish.
Roger Knight, director of the Spey Fishery Board, stressed there was always "optimism" ahead of a new year.
He added: "We always look forward to it. It's always nice to see so many people attend the ceremony in Aberlour and feeling really invigorated, regardless of what has gone before.
"Last year was a challenging one on the river. There have been some changes to some of the runs which has affected the amount of grilse salmon we see returning.
"It certainly had an impact on the amount of spring salmon we had last year, but we're looking forward to seeing what this year will bring."
Last year, there were nearly 5,300 salmon caught on the Spey, which was about 2,300 fewer than the previous year, but almost 1,000 more than what was caught during 2014.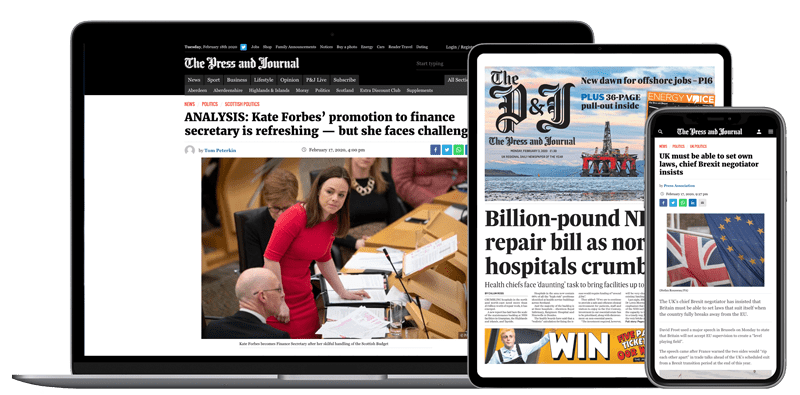 Help support quality local journalism … become a digital subscriber to The Press and Journal
For as little as £5.99 a month you can access all of our content, including Premium articles.
Subscribe