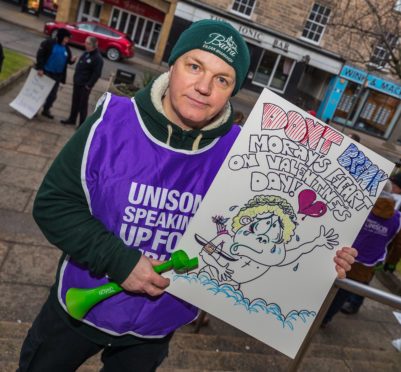 Moray Council has approved more than £6million worth of cuts as protesters rallied outside.
Councillors debated the savings for more than two hours yesterday after a late bid to delay the process to allow further negotiations failed.
Opposition members criticised the cuts as "slash and burn" while fearing savings in education could harm recruitment efforts to the region.
And last night, warnings were issued of more to come as the integrated joint board for health and social care in Moray examined the effect of a £1.2million drop in its council funding for services including home care, day services and community hospitals.
At the start of the talks, council leader George Alexander received a card emblazoned with "Moray Council RIP", signed by protestors concerned about the loss of more than 80 jobs.
The independent Forres member described the decision to move forward with the plan as taken with a "heavy heart" – but stressed the current administration was prepared to make "difficult decisions".
He added: "No councillor wants to make reductions in services but we must balance the budget. I passionately believe that we are doing the best thing. We will do our utmost to make sure the effects of these cuts will be as low as possible."
The forthcoming budget will lead to a reduction to a three-weekly bin collection to save £83,000, a £740,000 reduction in education budgets affecting librarians, technicians and specialist teachers and a management restructure to save another £500,000.
However, proposed cuts to the children and adolescent metal health service (CAMH) and social, emotional and behavioural needs (SEBN) were dropped following impassioned pleas by parents. Reductions to home school link workers will be restricted to not filling the existing three vacant posts.
SNP councillors advocated scrapping nearly £1million worth of cuts to education while also safeguarding funding for the Citizens Advice Bureau.
Co-leader Shona Morrison said: "The loss of school librarians, technicians, visiting specialists and many other education cuts are beyond the pale and fail to recognise the huge contributions being made by the staff in these posts to the education of our young folk."
The Moray Alliance Group tabled its own proposals, which included reducing allowances for senior councillors to save more than £30,000, before choosing to support the SNP.
Speyside Glenlivet member Derek Ross said: "I don't know how we attract teachers when we cut education. Cutting horse riding for the disabled – what kind of authority does that?"
Suzanne Wright, branch secretary for Moray Unison, said: "These decisions will have a negative impact on the region for many years to come."
Christine Lester, chairwoman of Moray's integrated board for health and social care, added: "We face a very difficult task in meeting our obligation to deliver statutory services within a balanced budget when current level of resource is already less than what is required."
All 13 members of the council's administration backed the budget. There were 11 votes in opposition, Speyside Glenlivet member Walter Wilson abstained, and Elgin South councillor John Divers was not present.
Campaigners prepare for future after being hit by Moray Council budget cuts
A Moray charity has arranged an urgent meeting for next week amid fears a drop in its council funding could force it to close its doors.
The Elgin-based Citizens Advice Bureau (CAB) had its core funding slashed by £30,000 in yesterday's budget proposals.
Management at the group now fear they will have to close down before the end of next year once their own reserves have been exhausted.
Yesterday, chairman Eddie Coutts explained he was "devastated" by the decision.
The CAB deals with more than 7,000 clients every year and is estimated to generate £4 for the local economy for every £1 it receives from Moray Council.
Elgin City North councillor Paula Coy said: "I don't know where these people would be supposed to go now. A lot of them are vulnerable and don't have internet access. It could cause a lot of problems."
Meanwhile, the clock is now ticking for community groups to take over town halls across the region before they are closed.
Interested parties have until the end of June to express an interest in town halls in Elgin, Forres, Buckie, Cullen and Findochty as well as Buckie's Fisherman's Hall and the Longmore Hall in Keith to keep them open. Collectively, the buildings run at a loss of £152,000 a year.
Lantern of the North director Barry Jarvis, who is part of a campaign in Elgin, said: "We always knew the town hall's future was always in doubt for the long-term. If it wasn't this year, it would be next. It shows we made the right decision to get started early with putting together a group."
Opposing sides of Moray Council's chambers united in demanding that the region gets a "fairer" funding deal.
The local authority has cut £37million over the last eight years in an attempt to stave off bankruptcy in 2020.
Yesterday, councillors unanimously agreed a 3% rise in council tax to boost coffers by £1.2million.
However, authority leader George Alexander described the system as "broken" while advocating a fresh way of calculating cash awarded from the Scottish Government.
He said: "We need a new funding formula for local authorities. I have no doubt that Moray isn't getting a fair crack of the whip.
"Only Aberdeen and Edinburgh get less per-head of population from government. We get significantly less than other rural authorities."
Mr Alexander is due to press the case during talks with Cosla (the Convention of Scottish Local Authorities) this week – but SNP members described him as "asleep on the job" for delays in opening discussions.
Moray MSP Richard Lochhead has offered to organise a meeting with the Scottish Government's Finance Secretary, Derek Mackay, to advocate a new Cosla funding formula.
He added: "There's no doubt Moray can make the case for a better funding settlement but the challenge is to convince the other 31 councils that is the case."