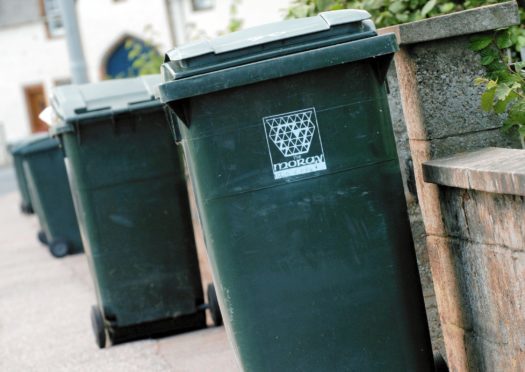 Thousands of furious residents have backed a petition calling for Moray Council to scrap plans to save £100,000 by reducing bin collections.
During the authority's budget meeting earlier this week, councillors voted in favour of dropping to a three-week collection for household waste.
Currently, the green bins are emptied fortnightly.
The move has sparked uproar across the region, with residents voicing fears that rubbish-strewn streets will bring about an influx of rats after the system changes in June.
Others have predicted that there will be more fly-tipping as residents find alternative ways to dispose of refuse.
More than 2,300 people have now signed an online petition calling for a rethink.
But the council insists that there will not be a U-turn on the unpopular decision, and instead urged people to recycle more.
The petition was started by Buckie man Richard Cawston, who admitted he was surprised at how quickly the petition has grown.
The 35-year-old, who works in IT, is a keen recycler and believes the move will backfire on the council's environmental aims.
He said: "I just live with my partner and we recycle a lot, but by collection day we still often have to force our green bin shut. I can't imagine what it's like for families.
"The council is trying to save money in the wrong place, and this will cause more trouble than it is worth.
"People will end up putting normal household rubbish in the recycling bin, contaminating the stuff in there so that it can't be recycled.
"I am shocked at how the petition has taken off, but it shows how strongly people feel about this."
Three-weekly collections will save the cash-strapped council £100,000 in operating costs.
And by sending less to landfill, its landfill tax bill – which cost £1.8million last year – is expected to come down.
But residents who have backed the petition believe the financial benefits of cutting collections are outweighed by the disadvantages it will bring Moray.
Diane Murdoch, from Buckie, wrote online: "Just a joke, will lead to fly tipping and unwanted vermin."
Zoe Barratt added: "This will just encourage rubbish in the streets, and bring mice and rats into our gardens."
Arlene Quinn said: "The bins are overflowing after two weeks so as for three weeks, the smell would be unbearable."
Under mounting pressure, Moray Council representatives took to social media yesterday to explain the unpopular change – and to tell people to recycle more.
The authority clarified that bigger green bins would not be issued, unless householders meet a specific criteria of having at least five family members – "and/or more than one child in nappies".
A statement added: "Only your green bin will be emptied – black bags containing excess waste will not be collected.
"Recent household waste audits have shown that around 50% of the average bin contents in Moray could have been recycled, but instead ended up in landfill.
"By recycling more, you'll have more space in your green bin.
"We're working hard to make sure that every household in Moray is notified of this change to three-weekly bin collections."
The change was endorsed as part of a package of cuts aimed at saving £6.6million over the next year, which also included shedding 90 members of staff.