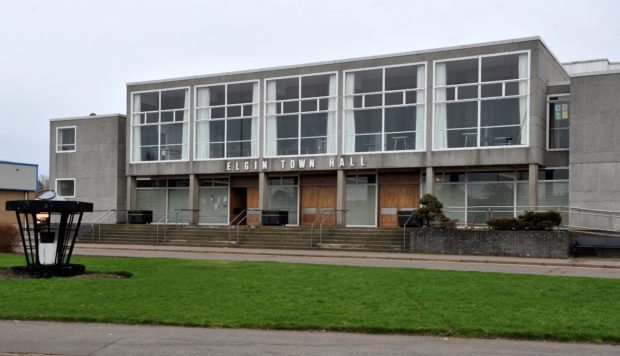 Campaigners fighting to save Moray's biggest performing venue from closure believe a visit from a top comedian at the weekend proves it still has a future.
Irish comic Dylan Moran, star of sitcom Black Books, will perform to a packed audience at Elgin Town Hall on Saturday to more than 500 people.
Yesterday, promoters revealed the event was heading for a sell-out while stressing there was untapped potential to entice more big-name acts to the venue.
Last week Moray Council slated the town hall for closure as part of cost-cutting plans to save more than £6million.
Campaigners have scheduled more talks for next week to put together rescue plans to transfer the building into community management.
Lantern of the North director Barry Jarvis, who is attempting to set up a steering group for the project, believes the visit of Mr Moran shows the venue is sustainable.
He said: "Dylan Moray wouldn't be profitable in a smaller venue. The town hall is probably the only place big enough. It's great to see people like him come to Elgin.
"A lot of these performers go round places like Aberdeen and Inverness. It's a logical step to add an Elgin date in amongst that.
"There's definitely a market in the wider Moray area for big shows. It's important to make promoters aware the town hall can be used for that."
Despite showing support for comedy acts at the venue, Mr Jarvis stressed the town hall needed to embrace "all parts of the community" to be transformed into a profit-making enterprise.
Moray Council estimates that shutting the town hall would save the authority £58,000 a year, once the cost of booking alternative lets are taken into account.
Paul Rollo, owner of the Drouthy Cobbler bar in Elgin, who is promoting Mr Moran, revealed tickets to see the stand-up had been selling fast since it was announced.
He said: "There definitely is an interest out there in coming to Elgin, not all are as well-known as Dylan, but there is definitely the potential for more.
"The town hall is such an important hub in our community, any decision to close it would be shortsighted."
Dylan Moran is performing at Elgin Town Hall on Saturday. Doors open at 6.30pm. Tickets can been booked online at
buytickets.at/eventsinelgin