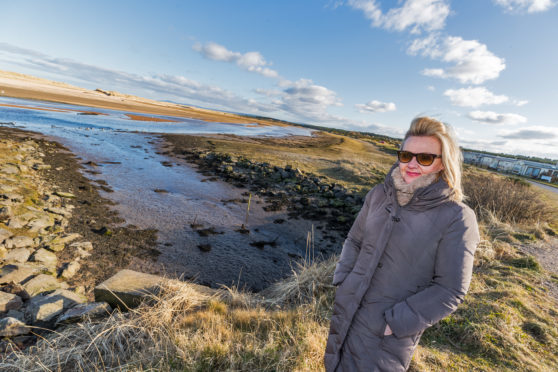 A woman had to be hauled out of sinking sand by a rope after getting stuck knee-deep in mud at a popular Moray walking spot.
Linda Laing was walking her dogs by the waterfront in Lossiemouth when her feet began to become submerged in the riverbed.
She was trapped in the mud for more than 30 minutes as her legs sunk further into the ground – eventually filling her wellington boots.
And as she screamed for help, she began worrying her dogs would race to help her and also get stuck.
The artist, from Elgin, was only freed after passers-by saw her frantic attempts to get attention and raced to help.
Last night, Mrs Laing called for action to ensure nobody else became trapped at the Seatown spot.
She said: "The tide was out so I decided to walk by the river. It was muddy but I was wearing wellies so didn't think anything of it.
"I took big steps to get across as quickly as I could and then my leg just sunk. As I tried to get out I could feel myself sinking further. My dogs wanted to be near me as I became more distressed, it was hard to keep them away so they didn't get stuck too.
"I go there regularly and I didn't know it could be dangerous. Signs or something need to be put up to warn people. It's down a dip so even if you do get stuck people driving on the road can't see."
Mrs Laing, who runs a pebble art firm, was eventually freed from the mud near the mouth of Spynie Canal after visitors to the beach heard her desperate pleas for help.
Jim and Elaine Hamilton, from Spey Bay, were first at the scene and recruited a nearby motorist who had some rope to provide aid.
The dog walker was eventually hoisted out of her boots and the mud and to safety on dry land.
Mr Hamilton said: "I'm just happy she's OK. If it had been a youngster it could have been pretty catastrophic. It's a possibility, it's that much of a danger.
"As soon as I saw her I could see she was not getting out – she was stuck fast. It's not nice to think what it could have been like if it was somebody aged eight or 10."
After being rescued from the mud on Thursday, Mrs Laing and her dogs were hosed down at the nearby caravan park before she drove barefoot back to Elgin due to her boots remaining submerged in the wet sand.
Last night, Mike Mulholland, chairman of Lossiemouth Community Council, also issued a warning about the danger spot.
He said: "It's not something I've heard happening before. It's probably not the kind of thing that gets reported though – people get out of it and move on – that's the trouble.
"It's a scary thing to happen, certainly could have been worse. People definitely need to be made aware to take care there."