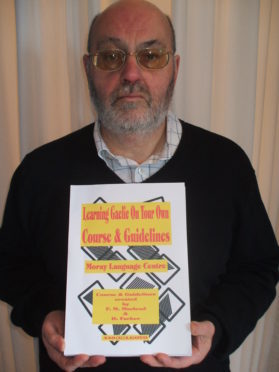 A language expert in Moray wants to set up a group in the region to encourage toddlers to start speaking Gaelic.
Finlay Macleod, who lives in Portessie, travels across the US and Canada to work with small communities to keep their language alive.
Now the campaigner, who is originally from the Western Isles and is director of the Moray Language Centre, wants to set up a parent and child group to encourage youngsters to speak Gaelic.
Yesterday the linguist explained it was beneficial to learn a language in a homely environment instead of in a classroom.
He said: "I've developed courses that make it very fast to learn foreign languages, much faster than the school system – sometimes as quick as eight weeks.
"Language used at home is far faster to learn, because you already know the environment. If you're preparing breakfast then you know what everything is in English and the words you're going to need.
"I've worked with children as young as six weeks old in the past. If you want a child to speak a language, it's best the parent learns at the same time and for the child to start as soon as possible, ideally before their first birthday."
Mr Macleod hopes families will attend the sessions to strike up conversations in Gaelic with other parents and children.
Despite being passionate about the language, the island native revealed he was also concerned to see the decline in a north-east dialect.
He said: "I'm really surprised Doric isn't spoken more, especially in the younger age groups. In this area I thought it would be strong, it's difficult to understand why that isn't the case.
"It's maybe not part of home life the way it was in previous generations, and that will only decline in the future."
It is hoped the Gaelic sessions will begin, at a venue to be decided by the participants, in September.
Anyone who wants to be part of the group should contact Mr Macleod by calling 07789 826934 or by e-mailing finlaymlc@btinternet.com