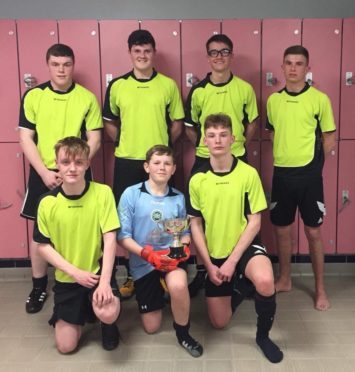 A squad of Moray teenagers have beaten the competition to be named the best five-a-side football team in Scotland.
The 1st Buckie Boys' Brigade battled through two rounds of qualifying tournaments before claiming the honour at the finals in Grangemouth.
The footballers will now be cheered-on by a coach-load of supporters at the UK Championships, which are being held in Belfast next month.
It is the third time in five years that a team from the Buckie group has been crowned the best in Scotland.
Malcolm Smith, who has been coaching the teams for the last 15 years, said the boys had defeated old foes from Gourock and Dundee to come out on top.
He said: "I was absolutely delighted when we won the title the first time five years ago. When I first started taking the team we were suffering some big defeats so it was good to see them start getting stronger.
"Last year we did very well and were runners-up in the Scottish competition and I felt that we would only get stronger again this year.
"It's a fantastic achievement from the boys and there was no fortune about it as they deserved every victory they got."
The team – comprising brothers Finlay and Innes McKay, Brodie Christie, Jay Flett, Evan Smith, Jamie Wood and Tommie Marandola – qualified through the first round in Dundee before a home support in Buckie cheered them on to a place in the finals.
The company, which celebrated the 70th anniversary of its formation in December, has never been crowned British champions before.
Mr Smith added: "We've already got a bus organised to head over to Ireland. A lot of parents and friends want to be there to support the boys."
Company captain Alan McIntosh joined in praising the football talent of the youngsters who make up the current team.
He said: "It's a tremendous achievement to be the best in Scotland and it would be something else to be the best in Britain."
The Buckie company is currently understood to the largest Boys' Brigade group in the UK, with more than 160 youngsters actively involved every week in the town.
This week the teenagers were congratulated ahead of a meeting of a full council meeting of Moray Council.
Convener James Allan, who is also vice president of the North Scottish Area Boys' Brigade, added: "It's wonderful to see them flying the flag for Moray and Banffshire and it's even more special for them with it being so close to their 70th anniversary."