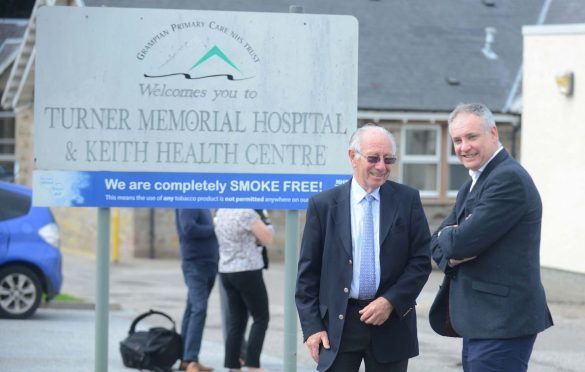 Campaigners fighting for a replacement health centre in a Moray town are rejoicing after NHS Grampian agreed to enter talks to buy land for a new building.
People in Keith have complained about the worsening state of the dilapidated 19th century Turner Memorial Hospital and health centre for more than a decade.
NHS Grampian has now agreed to negotiate the purchase of the land required for the new venue from Moray Council.
The move follows a visit from the Scottish Government's health secretary, Shona Robison, where she heard directly from campaigners.
The centre's Patient Participation Group represents the 7,000 people registered there, and has highlighted a litany of problems.
Parts of the old building are not accessible for people in wheelchairs, while pieces of equipment have also been condemned as past their sell-by-date.
Moray MSP, Richard Lochhead, paid tribute to the locals that spearheaded the crusade for changes last night.
And he called for the next stage of the process, the completion of a business case for the replacement building, to progress "without delay".
The SNP politician said: "I am absolutely delighted that NHS Grampian has agreed to move forward to the next stage in the process of building a new Keith Health Centre.
"This is testament to the strong campaign that has been run by the Patient Participation Group, the GPs and the people of Keith.
"It is very clear that Keith deserves a new facility and it's fantastic news that NHS Grampian are moving forward with this project.
"It's important now to keep up the momentum and ensure that a business case is completed without delay."
NHS Grampian's asset management group this week accepted a proposal to move forward with arrangements to secure the new site.
Moray MP, Douglas Ross, has also worked closely with affected patients and described yesterday's announcement as a "significant step forward".
The Conservative added: "Patients have been campaigning for the desperately-needed new health centre for more than a decade."
Mr Ross is hopeful that a public meeting will be convened in Keith in the near future, to allow residents to discuss plans for the new venue.