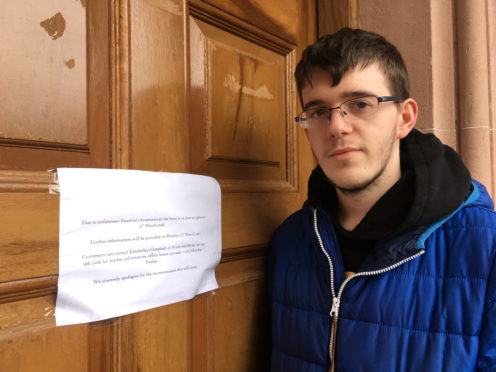 A chef at a bankrupt Moray hotel only discovered he had lost his job after returning from holiday a day after it closed its doors.
Accountants suspended trading at the plush Mansion House Hotel and Country Club in Elgin on Friday.
The decision came after the owners David and Maria Baker, who live in Spain, lost a court ruling against HMRC which was chasing an unpaid VAT bill worth £90,000.
Mr Baker – who blamed a two-year enforced closure for council flood works for killing the business – claimed he was on his way back to the UK to pay the bill but flights were grounded due to severe weather.
Yesterday, a post on the hotel's Facebook page claimed the venue was on the market and staff were looking for alternative work.
However the Accountants in Bankruptcy (AIB), the national administrators of bankruptcy, indicated last night that the facility was due to re-open soon while its long-term future is determined, with a date yet to be announced.
Scores of couples' wedding dreams were left in tatters following the announcement and at least 26 full time staff have lost their jobs, with an estimated 10-15 part-time function workers also affected.
Among those now searching for new work is Fraser Gibb, who was visiting his girlfriend in Poland when the news broke.
The 21-year-old commischef, who worked there for three years, said he was "completely in the dark" about the bankruptcy until his father called him.
"I didn't really know anything about this, my colleagues didn't want to ruin my holiday by telling me," he said.
"I wouldn't mind have being told because it's my livelihood – it's everyone's livelihood – but at the same time I understand why they didn't want to tell me.
"There's been quite a few tears from what I've been told. The guys in the kitchen are already out looking for other jobs, some of them have already had other interviews.
"The best we can do is prepare for the worst, we're still trying to work our way through that, and just try to find more work.
"It was lively, we all got on well enough and it was a nice place to work."
"I think it will be missed, not just by the staff but by everyone."
The message on the hotel's Facebook page stated: "The management and staff of the Mansion House Hotel are absolutely devastated to announce that we have been told today that the hotel is now for sale.
"We apologise to all brides/grooms and every single person that has been let down.
"Despite being slated over social media we did not know the hotel was about to go into solvency.
"If you have paid any monies/deposits to the hotel then please contact the receivers."
The statement added: "We as a team remain united and strong but are all looking for employment and if any local businesses can help, please contact us so we can support the team into new employment.
"We thank everyone who has contacted us all personally through phone calls and messages showing their support through this absolutely devastating time."
Mr Baker declined to comment when approached last night.
However last week he claimed bookings had dropped by 20% a year since the closure, adding: "The weddings have never recovered at the hotel since the flood works."
A spokeswoman for Glasgow-based accountants Wylie and Bisset which is handling the bankruptcy on behalf of AIB, said they were not in a position to comment.