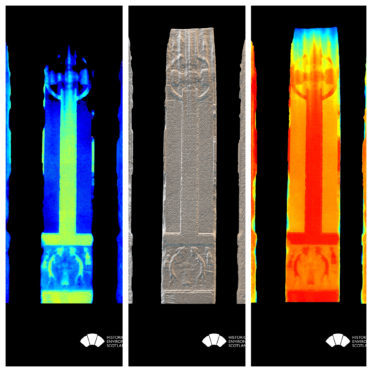 New imaging technology has enabled archaeologists to view one of Scotland's largest surviving Pictish stones in a new light.
Researchers from Historic Environment Scotland have used laser scanning to create startling new images of Sueno's Stone in Forres.
The 21ft tall artefact, which was created at some point in the between the 9th and 10th centuries, was analysed by the HES team as part of a larger project to digitally document historically important sites and objects across Scotland in 3D.
As well as cataloguing artefacts so they can be studied and enjoyed around the world through the internet, the project will also allow conservationists from HES to keep track of any deterioration and carry out repairs.
Lyn Wilson, digital documentation manager for HES, visited Moray to oversee the scanning of Sueno's Stone, which is usually housed in a glass display case at Findhorn Road in Forres.
She said: "This is part of a HES's Rae Project, a project to document everything that HES looks after.
"We captured this data through a couple of different techniques, including photogrammetry, which is a photographic process of capturing 3D information, and laser scanning.
"There are multiple aims behind this, including conservation, and improving access to these fascinating sites through digital means for people that might not be able to access them in person.
"Quite a few of the objects we've worked on so far with this technology have had additional details revealed that can't be seen with the naked eye.
"We can exaggerate some details that have been really badly eroded to help us understand the objects a little bit better."
The impressive Pictish sculpture's carvings depict a battle, and what has been interpreted as a royal inauguration.
Ms Wilson added: "Sueno's Stone is something which we have been looking at scanning for a while, but it came to the fore when we were approached by the Falconer Museum, a local group in Forres who were interested in accessing new data from the stone to share with the community.
"Moving forward, we're hoping to use digital interactive technology like 3D imaging to help people to access and understand our heritage better, and these scans of Sueno's Stone will be a key part of that."