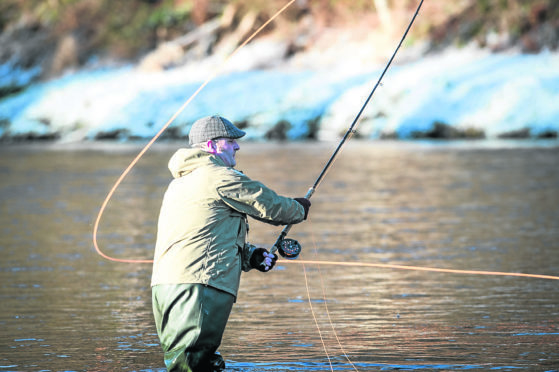 An environmental crisis was averted after 150 litres of fuel spilled into a burn which feeds into an important Moray salmon river.
Red diesel escaped from a fuel tank at the Aberlour factory of world-famous Walkers Shortbread and seeped into a burn which runs into the River Spey.
Fast-moving workers put down booms, although it is believed the volume of fuel had actually dispersed naturally prior to the point of reaching the river three-quarters-of-a-mile downstream.
The Scottish Environment Protection Agency (Sepa) confirmed it was called to the River Spey following a spill and was investigating.
Diesel was reportedly visible in the burn, which runs from Loch Spey to the Moray Firth on the coast, five miles west of Buckie.
Nicky Walker, of family firm Walkers Shortbread, confirmed the incident, adding: "We have a red diesel tank and a nozzle slipped which resulted in diesel going into the burn next to the site.
"We put down booms as soon as we saw this and contacted Sepa."
Mr Walker understands that the diesel did not make it out of the burn and into the Spey itself.
He added: "It was a small burn about three quarters of a mile from the river and it seems no diesel made it that far."
A concerned local who contacted the Press and Journal claimed the spill could have had a catastrophic effect on wildlife if it had reached the river.
He said: "I think it was an accident, it wasn't in any way done maliciously. I just think the public should be made aware of it. You can see diesel floating all the way down the river."
Roger Knight of the Spey Fisheries Board confirmed they were made aware of the incident and that they notified ghillies along the river, but they did not report any pollution entering the system.
A Sepa spokesman confirmed they notification from Walkers Shortbread on Monday regarding a spillage of diesel at their Aberlour site.
He added: "Sepa officers have attended the site on several occasions this week to investigate the spillage of approximately 150 litres of oil.
"Due to immediate action taken by the operator to put oil mitigation measures in place this incident has not resulted in a significant environmental impact. There is no visible oil in the River Spey and we will be carrying out further site visits over the next week to ensure the environment is protected."
The 107-mile long river also supports some dense colonies of freshwater pearl mussels, which thrive in clean fast-flowing rivers and are very rare globally. The River Spey is one of the most important rivers for the species in Scotland, supporting a population of several million.