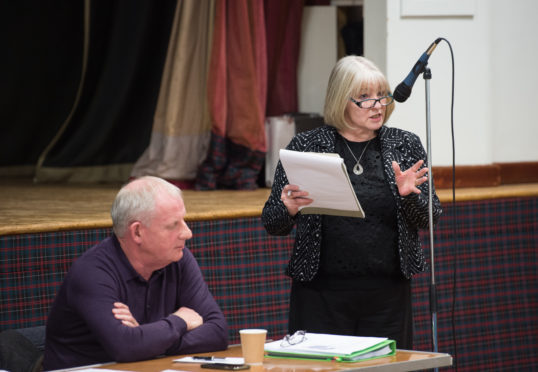 Fears have been raised that cancelling bookings at closure-threatened community halls in Moray could harm efforts to keep them open.
Last night, around 150 people packed the Longmore Hall in Keith to learn more about how locals can keep the treasured building open.
The facility is one of six town halls that will shut its doors for good at the end of June unless a viable community group can be found to take it on.
Bookings at all of the venues have been cancelled beyond that date until their futures have been settled.
During last night's talks, Keith and Cullen councillor Theresa Coull explained the lack of guaranteed hall hires to provide income had "frustrated" her.
Meanwhile Andrew Gray, Moray Council's community asset transfer coordinator, pledged to work with any group formed to run the Longmore Hall to keep it open.
Mrs Coull said: "The booking situation is very frustrating, not just in Keith but everywhere in Moray. I've tried to get answers about keeping the bookings going but not got one.
"I'm annoyed about it because it will provide money going into the hall for any group wanting to take it on."
Mr Gray added: "We are not in the business of making things difficult.
"We will do what we can to work with any group that comes forward to make a transfer to the community happen, if that's what they want."
Closing the Longmore Hall was part of budget plans that also included shutting town halls in Elgin, Forres, Cullen and Findochty as well as the Fisherman's Hall in Buckie to save £152,000.
Gordon Christie, chairman of Fochabers Village Association, was at last night's meeting to provide an insight into the three-year process that kept the Fochabers Insitute open as well as funding an £800,000 revamp.
The businessman revealed bookings at the venue had doubled since his group had taken ownership of it.
He said: "Any group taking on a hall will do a better job than the council.
"We charge a low rate for local groups and then fixed fees for weddings, other functions and concerts. It's hard work, but good fun too."
Keith and Cullen councillor Donald Gatt, who backed the council withdrawal from the halls, added: "This may be a disappointment to some, but I see this as a first-class opportunity for the community to become more involved in the running of this facility."