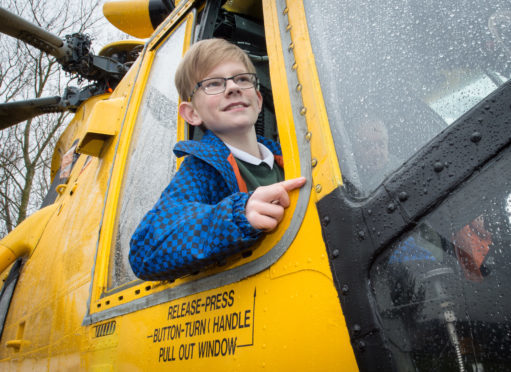 School pupils have become the first to sit in the cockpit of restored relics at a Moray aviation centre.
New exhibits touched down at Morayvia during the winter following months of painstaking refurbishment undertaken by volunteers.
Yesterday, students at Milne's Primary School were invited to jump inside the historic aircraft now parked up at the Kinloss attraction ahead of their unveiling to the general public.
One of the new additions is a bright yellow Wessex search and rescue helicopter that was used in the 1960s and 1970s, which now sits proudly next to one of its successors, the Sea King.
Volunteers at Morayvia have spent almost a year bringing the aircraft back to its former glory after it was trashed, with instrument panels ripped out and rotor blades clipped off.
A cockpit from a Valiant bomber dating back to the 1950s has also been restored with work ongoing on a Jaguar jet once based at RAF Lossiemouth.
The collection at the former primary school has now grown so large that volunteers have had to expand the outdoor area open to visitors.
Inside, a rug that used to adorn the floor of the officer's mess at RAF Kinloss has also been salvaged after becoming surplus to requirements following the base's transfer to the army.
Meanwhile, a workshop of restored engines used on supersonic jets and bombers has been opened up to allow enthusiasts to marvel at the engineering.
Last year, Morayvia had its busiest ever season with more than 7,000 visitors passing through the doors – not including school trips and private tours.
Chairman Mark Mair stressed it was important that the attraction continued to develop.
He said: "We don't notice it so much ourselves, but when people come back after a while they notice a lot more planes and exhibits. That's what we want so that people keep coming back.
"Volunteers are really at the core of what we do, not just the restorations, but also the knowledge they bring because they have actually flown in them."