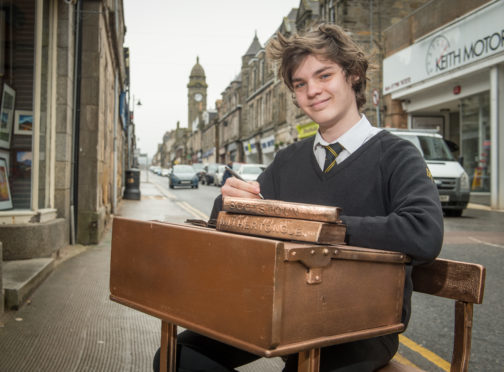 Sculptures designed to celebrate the Scots heritage of a Moray town have gone on display.
Three miniatures have been unveiled in Keith to create a focal point for tourists to share images of their visit across the globe.
The town was named as Scotland's first Scots Toun three years ago following a long-running campaign in the area.
Now the Keith and Strathisla Regeneration Partnership wants to create a permanent fixture at the junction of Mid Street and Church Road to celebrate the linguistic heritage.
Three sculptors have crafted designs to fit the brief of the future of the Scots language depending on children's education and the instrumental part Robert Burns played in saving the tongue.
The designers were also invited to encourage interactivity and a photo opportunity for visiting tourists.
Yesterday, English students from Keith Grammar School, who studied for a Scots qualification last year, visited the Pop-Up Shop on Mid Street to choose their own favourites.
Rhona Patterson, chairwoman of the partnership, said: "The sculpture will form an important part of our regeneration work and aims to build on our success as Scotland's first Scots Toun.
"The concept of language-based tourism will make a bold statement as to the town's linguistic confidence."
Ballindalloch sculptor Stuart Murdoch has creative an interactive monolith that will have words carved into the side, David Annand, from Cupar in Fife, has submitted a design of a tutor reading Scots to children while Bibo (CORR) Keeley and Neil Kellas, from Aberdeen, have recreated an old school desk with Scots books on top.
Mr Annand said: "My parents were born in Keith, went to school there, and I often visited my relatives there after we moved to Insch.
"I have looked forward to coming back and researching my own routes during my visit back.
"The project sounds great, it will add value to the regeneration of Keith."
The miniature sculptures will be on display at the In Keith Pop-Up Shop on Mid Street from 10am until noon and from 2pm until 4pm today and tomorrow.
All the sculptors will also be in the store tomorrow from 6pm to 8pm to answer questions about their designs. Votes can only be cast in the shop.