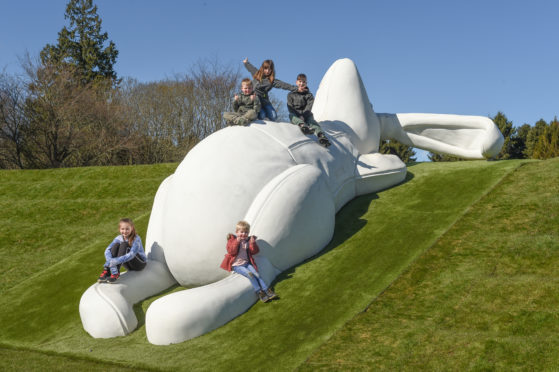 Record tourism figures have been announced for Moray amid hopes of a booming summer for the region.
Industry leaders in the area expect the Easter weekend to herald the start of convoys of visitors heading north in the coming months.
New figures show that tourism had a record £57.9million impact on the local economy in the first six months of last year – up 7.5% from the previous 12 months.
Yesterday, Moray Speyside Tourism's operations manager, Laurie Piper, revealed indicators were pointing to the annual visitor numbers hitting 800,000 for the first time.
Meanwhile, hopes are high the impact of the newly-created North East 250 driving route will help the region to reach – and exceed – these figures.
Mr Piper explained that word-of-mouth and greater awareness of Moray and Speyside with tour operators had contributed to the success.
He said: "There's a combination of factors that are leading to just a whole lot more people coming here, which is great to see.
"The key thing for us as a region has been to make the travel trade, who buy the products, a lot more aware of what Moray and Speyside has to offer.
"Traditionally, they have not been quite as aware of us compared to our neighbouring regions but there is a significant opportunity to contract some real and significant business there."
April has traditionally marked the beginning of the tourist season in Moray with visitor numbers rising by about 10,000 from March last year – before doubling to 112,000 in May.
All sectors measured, including accommodation, food and drink, shopping, transport and recreation, recorded a rise in spending from the beginning of 2016 to 2017.
The total amount of visitors rose to more than 390,000, a jump of 8.4%, helping to support the equivalent of more than 100 new jobs across the region.
Touring caravan and camping accommodation is the most popular, accounting for nearly a third of all overnight stays.
Gordon Christie, owner of the Burnside Caravan Park in Fochabers, believes Moray's ideal location within easy reach of cities attracts a significant amount of people on weekend breaks.
He said: "We have milder weather compared to the rest of the north-east, which certainly helps. Further along the coast at Peterhead and Fraserburgh you certainly get a lot more haar off the sea then we get.
"Moray is a great family holiday. People can come up here for weekends or a few days, there's a lot of local attractions, and it's affordable.
"I think that's the way a lot of people are going these days and it seems to work for them."
Concerns have been raised that Moray's tourism offering may take a hit in forthcoming years with the demise of Colours of Cluny and the final Piping at Forres due to be held in the summer.
However, John Cowe, chairman of Moray Economic Partnership, believes there are a lot of initiatives in development to fill the gap.
He said: "Things are really moving ahead. The team at Moray Speyside Tourism put in a lot of hard work but it's really paying dividends now.
"Certainly, we hope the NE250 will have an impact, although it also runs through Aberdeenshire. We did get a boost off the NC500 and that was nothing to do with Moray. There's so much more happening too though."