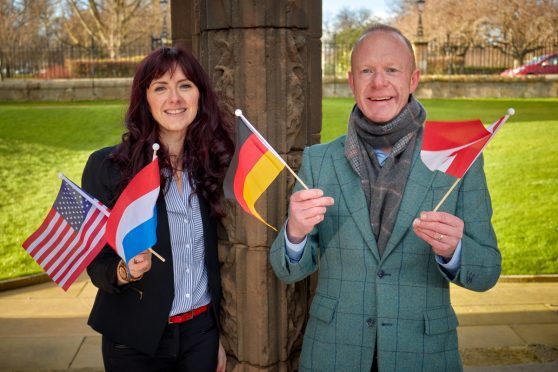 A dozen tourism experts from Canada are due to tour Speyside next week in order to sell the region as a holiday destination.
The tour operators will sample hotels and attractions that would be part of a vacation so they can entice customers from their home country.
The visit is part of Moray Speyside Tourism's efforts at the Visit Scotland expo in Glasgow, where about 600 tour operators and travel agents from across the world will gather information about destinations.
As part of the drive, a group of 12 buyers from Canada will head north for the familiarisation trip with other delegates also expected to be part of the tour.
Locations on the itinerary include the Aberlour Hotel, Aberlour Distillery and Ballindalloch Castle and estate.
Jo Robinson, regional director of Visit Scotland, said: "Once again, Moray Speyside has pulled out the stops to showcase their stunning region to a global audience.
"I'm delighted that many of our visiting travel agents and tour operators will get the chance to experience this fantastic region for themselves on one of our familiarisation trips.
"The future of Scottish tourism lies beyond our shores and we are inspiring, supporting and encouraging businesses the match their global growth ambitions."
Research has found that tour operators are about 80% more likely to include locations they have visited themselves on future programmes.
Moray Speyside Tourism is heading to Glasgow for the trade show with representatives from The Malt Whisky Trail, Gordon Castle, Chivas Brothers, Ace Adventure and Hideaways and the Spirit of Speyside Whisky Festival.
The trip will come within a week of the group announcing record visitor numbers for the first half of last year – with the total amount of annual tourists expected to break 800,000 for the first time.
The organisation has promoted Moray and Speyside as "Scotland in miniature" while targeting four key overseas markets – Canada, the US, Germany and the Netherlands.
Laurie Piper, operations manager at Moray Speyside Tourism, added: "Visit Scotland's expo is more than a trade show, it's a shop window for destinations and a great way for us to showcase the very best we have to offer."