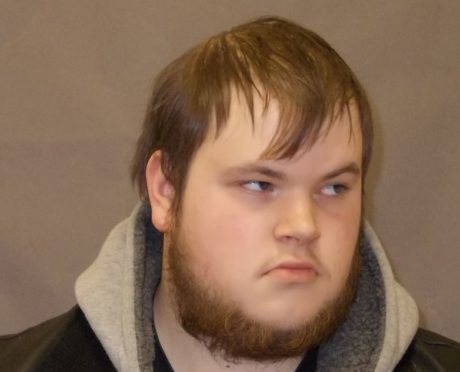 A Neo-Nazi who was plotting to blow up mosques in Aberdeen has been jailed for life.
Connor Ward was caught with a cache of weapons and bomb-making equipment – as well as a map of all the mosques in Aberdeen – when police raided his home in Banff.
The 25-year-old – who previously sparked a bomb scare after threatening to blow himself and his dad up – had also pledged to usher in the "demise" of Islam.
At the High Court in Glasgow yesterday, Ward was told he would have to serve at least six years before being eligible for parole.
His extensive arsenal of weapons included ball bearings, which could have been used in pipe bombs and in rocket tubes capable of firing the projectiles.
Ward, who denied breaching the Terrorism Act, told the court he bought the metal balls on Amazon so he could hunt rabbits.
But that claim was dismissed by judge Lord Burns.
Handing him a discretionary life sentencing, the judge said Ward "formed an intention" to use the bearings to attack mosques.
"You had chosen a method of inflicting damage to that target and anyone in it as demonstrated by the purchase of ball bearings and tubes to put them in," he said.
"You had explored means by which you might disguise yourself in order to perpetrate this act and avoid detection."
Lord Burns added it was clear Ward was "deeply committed" to neo-Nazi ideology and that if his threats were carried out it would have had "catastrophic results".
He said: "This involved a high level of research and planning as shown by the vast collection of manuals for the manufacture of IEDs at home.
Police launch internet warning after Ward sentenced for life
"Because you reached the stage of buying the materials, namely ball bearings, which would have gone into the IED, it is legitimate to infer that you planned to cause serious injury, at the least, to anyone within or in the vicinity of the building at the time of the explosion."
A board will eventually decide if Ward will ever be released.
Last night, Iman Ibrahim Alwawi, of the Aberdeen Mosque and Islamic Centre, described it as "very sad" that Ward had destroyed his life due to "misinformation and promotion of non-tolerance".
He said: "A young person has destroyed his life due to misinformation and promotion of non-tolerance.
"We find Aberdonians to be very nice people and this is just one unfortunate incident that could have had very serious implications.
"We promote tolerance and understanding for all and pray that all communities in Aberdeen can come together in unity and help each other as fellow human beings."
Referring to the lengthy jail term, Mr Alwawi added: "We believe it is a lesson for others, and we trust the justice system."
When police searched Ward's home they found weapons including a stun gun, hundreds of knuckle dusters, knives and metal bars.
Deactivated bullets were also discovered.
They had been tipped off about a stun gun being delivered to Ward from abroad.
Officers also found a phone signal jamming device and a machine for detecting hidden bugs.
Downloaded items on his computer included documents on firearms and military tactics, right-wing propaganda and a map showing the addresses of five mosques in the Aberdeen area.
They also found a book which Ward had started to compile titled "Combat 18 British Mosque Address Book".
Combat 18 is the name of a right-wing paramilitary group.
On its title page, Ward had written: "This book is dedicated to all that follow Mohammed and the Islamic faith. You will all soon suffer your demise."
Ward, a former psychiatric patient, claimed he was suffering from mental illness at the time
But jurors did not believe him and returned guilty verdicts on two charges of breaching the Terrorism Act 2000 and the Terrorism Act 2006 between February 26, 2011, and November 21, 2014.
Connor Ward was 20 when he was first locked up after sparking a bomb scare in Banff in 2012.
Residents in the Low Shore area were evacuated after he threatened to kill himself and his dad with a bomb.
He was living in a rubbish-strewn house in Water Lane and held a grudge against his dad, Alexander, who fathered a child with Ward's young ex-girlfriend.
The plot was uncovered when his mum found a copy of the Do-It-Yourself Gunpowder Cookbook among bottles of chemicals at his flat.
At the High Court in Edinburgh, he was caged for three years but allowed out early on supervised release.
But within months of his release, he was back in the dock.
At Peterhead Sheriff Court in 2015, he admitted to amassing a collection of knuckle-dusters and a stun-gun between November 19, 2013, and November 21, 2014.
Police were tipped off about his cache by the National Crime Agency after a package addressed to his mother's house was intercepted from the US.
When officers searched his home and his mother's, they found a booklet on the Nazis and swastika flags among the arsenal.
Sheriff Andrew Miller said Ward's actions were of a "significant concern" and jailed him for 22 months.
He was also ordered to serve the outstanding year on his supervised release behind bars.
In total, police pulled 58 knuckle-dusters and knuckle-duster type weapons from his possession.
His solicitor, Sheena Mair, had claimed Ward  initially attempted to contact Amnesty International to dispose of the stun-gun, but later forgot he owned it.
She added detention would not offer him the best chance of a life beyond a cell.
"Mr Ward's circumstances are very complex," she said at the time.
"He required in-depth support and I would submit that can be provided by way of a community disposal.
"I don't think there's anything for providing structural activity in prison – resources and specialist workers are not as freely available in custody as they are in the community."