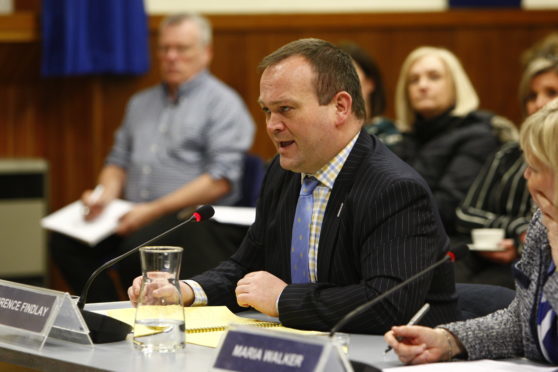 Moray Council could be left without a director of education and social care for up to two years.
The current post holder, Laurence Findlay, has been seconded to the Northern Alliance group of authorities to drive forward learning across the north of Scotland.
However, now it has emerged that there will be "no direct replacement" for him during his temporary assignment.
Opposition councillors have criticised the development, suggesting it could damage the region's attempts to attract teachers to the area.
Chief executive Robby Burns has assured that the arrangements are the "best in the circumstances" while an examination of the senior management structure is done and a review of educational governance is completed by the Scottish Government.
Arrangements to cover Mr Findlay's secondment were due to be finalised this week but have now been pushed back to await the results of the restructuring review.
Speyside Glenlivet councillor Derek Ross said: "I think we are letting down the children and young people of this area, again saving money at their expense following the budget.
"We already have a problem recruiting teachers. What kind of message does this send out? It strikes me this is a downward spiral with no head of service."
It is understood Mr Findlay continues to work one day a week for the council with five-sixths of his salary being retrieved by the authority.
The education officer has been tasked with improving learning across the Northern Alliance, which includes Aberdeen, Aberdeenshire, Moray, Highland, Orkney, Shetland, the Western Isles and Argyll and Bute councils, as well as addressing rural issues.
Aberdeen City Council has already axed its own education director following a review to save £150million over five years – expecting the Northern Alliance group to play a bigger role.
Mr Burns said: "The focus from providing the best education has not changed. I've met the inspectorate personally to assure them of that.
"The post remains intact pending the Scottish Government's review of educational governance, which could change the role of the director considerably."
Council leader George Alexander added: "I'm quite happy with the arrangements. I don't think we should appoint a permanent replacement at this time while things are in a state of flux.
"In the long-term, I would like a different structure to deliver a better education system. I'm not convinced we've got that at the moment."