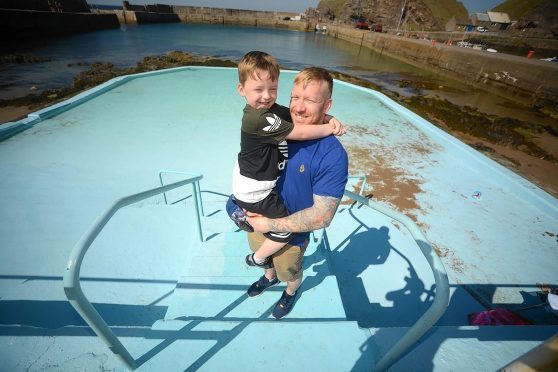 A Moray couple who maintain their village paddling pool as a labour of love have launched a fundraising campaign to offset decades of decay.
Steven and Kirsty Farquhar, who live near the pool at Portknockie, say the popular seaside spot is badly in need of improvements following 60 years of wear and tear.
Some of its distinctive bright blue walls are crumbling, while a leaky valve means that water seeps from the enclosure and stops short paddling sessions.
They estimate the repairs will cost around £10,000.
Now past and present users of the facility have now been asked to help raise £5,000 so it can be enjoyed by future generations.
Mr and Mrs Farquhar began looking after the attraction near six years ago, fearing the council could no longer care for it due to cutbacks.
Since then they have cleaned the pool with hoses every three weeks, carried out a yearly power wash and given it the occasional fresh lick of paint – which is a five-hour job in itself.
But during that time they have noticed its condition deteriorate due to its age.
With the help of friends and family, Mr and Mrs Farquhar have now launched a campaign aimed at bringing the pool up to scratch and securing its future.
Mrs Farquhar said: "There is a valve at the back of the pool which is leaking water, and the wall is crumbling on its left side.
"We are also looking to get it recoated at the bottom, as it hasn't been touched in 60 years.
"We are hoping to begin the work in September, and have spoken to specialist builders about how to carry it out.
"The last thing we would want is for the pool to close, it is so busy in the summer with holidaymakers and kids."
Mrs Farquhar's mum, Donna Coull, and her friend, Lillian Urquhart, have been heavily involved with the campaign and have helped raise £6,000 already through various drives.
Portknockie Community Council's Angela Mair described the pool as a source of both nostalgia and fun.
She said: "We had great days at it when we were young 40 years ago, and it still remains very popular with children.
"Everbody in Portknockie is behind this campaign."
People can donate to the cause at www.justgiving.com/crowdfunding/donna-coull-1