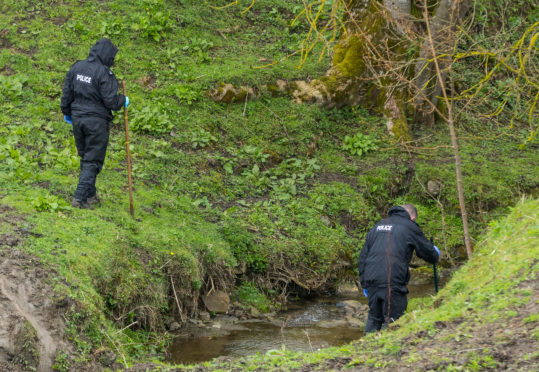 A Moray town was a hive of police activity over the weekend as officers continued to investigate the discovery of a body.
The remains of a man in his 20s were spotted along the River Isla, about a mile south of Keith, last week and police efforts to piece together what happened to the deceased remain ongoing.
It is understood that CCTV footage from pubs in the town are being scrutinised, while the spot where the body was found remained under police guard last night.
It is not known how long the body had been by the river for before it was discovered.
Police last night confirmed that they are still treating the death as "unexplained" but say they do not believe that there were any suspicious circumstances.
A blue tarpaulin tent was erected around the remains after police were alerted on Wednesday night and it remained there for more than 48 hours.
The body had, however, been removed from the scene by Saturday morning.
Yesterday afternoon, police officers in pairs were seen searching the ground for clues near to where the grim discovery was made.
One local suggested they were perhaps scouring the landscape for any property belonging to the man in an effort to track down his next of kin.
It is understood that the body was at the foot of a 150ft tree-lined embankment.
The area near the Brandy Burn is popular with dog walkers and several were turned away in the days after the probe was launched.
Police have asked that anyone with information that could prove helpful contact them on 101.
Moray MP, Douglas Ross, said police had kept him abreast of the increased activity in the area in recent days.
He said: "Obviously our thoughts are with the family of the deceased at this sad time."