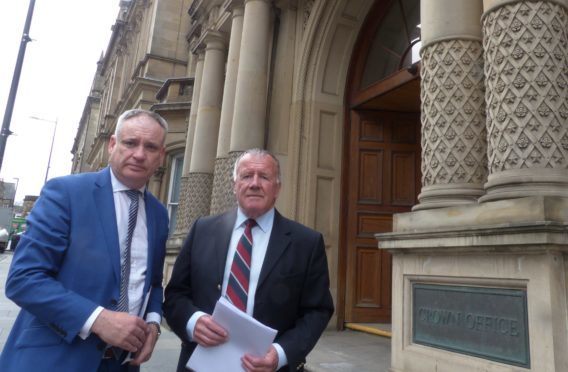 The Crown Office has vowed to "carefully consider" fresh calls for a court hearing into the mid-air RAF Tornado crash off the Highlands which killed three Moray aircrew.
The prosecution service agreed to the move after a two-hour meeting yesterday between senior officials, Moray MSP Richard Lochhead and retired RAF officer Jimmy Jones.
They have been campaigning for several years for a fatal accident inquiry (FAI) to be held into the deaths of Squadron Leader Sam Bailey, 36, Flight Lieutenant Hywel Poole, 28, and Flight Lieutenant Adam Sanders, 27.
The tragedy happened in bad weather on July 3, 2012, seven nautical miles south-east of Helmsdale, at about 920ft, when two RAF Lossiemouth-based Tornado jets collided while on separate training missions.
A Military Aviation Authority (MAA) inquiry into the incident found 17 contributory factors led to the collision – including the lack of an effective care plan for Sqn Ldr Bailey, who had developed a fear of flying at certain heights, and the failure to fit a crash warning system in the jets.
But in 2015 the Crown Office decided not to hold an FAI, on the grounds that the MAA probe was more wide-ranging than an FAI would have been.
Mr Jones has continued to campaign, however, and has been backed by members of the bereaved families.
And last year he secured a change in the law to ensure all deaths of military personnel in Scotland are subject to FAIs in the future.
Yesterday, Mr Lochhead and Mr Jones outlined to David Green, head of the Scottish Fatalities Investigation Unit at the Crown Office, why the new law should be applied retrospectively to the 2012 Tornado GR4 collision.
After the meeting, a Crown Office spokesman said: "We will carefully consider the material provided to us during the meeting with Richard Lochhead MSP and respond in due course."
Mr Lochhead said: "I felt we had a very fair hearing. It was a two-hour meeting, and Jimmy Jones, who I have been working with in the last couple of years made very powerful points to illustrate the case for a fatal accident inquiry.
"We began by making the very strong moral argument that if this were a tragedy that were to happen today, following a change in the law in relation to FAIs following military deaths, then there would automatically be such an inquiry today.
"And not only that, Jimmy brought forward new arguments in terms of evidence that needs to be cross-examined in such a way to ensure we do indeed learn all the lessons from that tragedy in 2012.
"Now we hope in the coming weeks that the Crown Office will come back to us with some positive news that they will now give the green light for an FAI into that tragic accident."
Mr Jones said the new evidence related to flaws in risk assessments carried out before flying missions.
"We have an opportunity now to step back in time a wee bit, correct what was wrong, by holding the FAI, and hope we can save lives in the future," he added.