A "passionate" father of two young boys has been killed in a crash while serving abroad with the RAF as an engineer.
Steven Wainwright died aged 29 in a road collision at RAF Akrotiri in Cyprus, where Typhoon jets from Moray have been based while on operations against IS targets in Syria.
The RAF Lossiemouth airman, who lived in Elgin with his wife Rachel and their children, three-year-old Thomas and 10-month-old Oscar, was promoted to Corporal in October, just months after his second son was born.
His dad, William, last night said that the family had been left "deeply saddened".
He said: "Steven was kind, loving and hard-working and he will be missed more than words can say.
"He was the life and soul of everything, he lived for his wife and children.
"He was loved by everybody, former colleagues are now coming to Moray from as far as Australia to attend his funeral."
Cpl Wainwright enlisted into the RAF in 2006 and his colleagues said he became cherished as "part of the RAF Lossiemouth family".
Group Captain Jim Walls, Station Commander the Moray airfield, said Cpl Wainwright was especially respected by colleagues for his "values as a family man".
He said: "Cpl Wainwright was a member of our family here at RAF Lossiemouth and we all feel his loss deeply.
"He was a highly skilled individual who was a key part of our team.
"I always enjoyed the gift of his upbeat attitude and particularly respected him for his values and approaches as a family man.
"We are all thinking of his loved ones at this tragic time."
Cpl Wainwright completed his basic training at RAF Halton and his first posting was to RAF Kinloss, where he worked as part of the Nimrod Line Squadron until July 2008.
Following his first tour he trained to qualify as a technician, and was subsequently assigned to RAF Marham to support Tornado operations.
He remained there until December 2012, when he was posted to No. 6 Squadron at RAF Leuchars.
In June 2014 he returned north with the squadron as part of a re-basing programme which brought it to Lossiemouth.
He had been deployed to RAF Akrotiri as part of the 903 Expeditionary Air Wing.
The squadron's commanding officer, Andrew Dickens OBE, said Cpl Wainwright had been playing a crucial part in the fight against terrorism at the time of his death.
He said: "As a highly skilled aircraft technician, Cpl Wainwright was making a key contribution to Operation Shader in ensuring Typhoon aircraft could complete the challenging mission against IS."
He died on Tuesday and the Ministry of Defence last night confirmed that the incident remains under investigation.
Wing Commander William Cooper, Officer Commanding No. 6 Squadron, added: "Cpl Wainwright was an unfailingly professional technician who had an incredible passion for his family, his work and life in the RAF.
"He was a man who motivated and lifted everybody he interacted with at RAF Lossiemouth, especially on No. 6 Squadron.
"A fighter squadron is a very tight unit and Cpl Wainwright embodied all the qualities to make that possible.
"He was a mentor to those both more senior and more junior and, by sheer force of personality, produced results in people others could not.
"His shoes cannot be filled and he will be greatly missed by everybody on No. 6 Squadron, the thoughts of all of us on are with Cpl Wainwright's family at this incredibly difficult time."
Chris Harris, senior engineering officer for the No. 6 Squadron, described Cpl Wainwright as "always with a smile to share, even at the end of the hardest night shift".
He added: "Steve was renowned for picking up morale with his infectiously positive approach to life.
"He took justifiable pride in being one of the best engineers on the squadron."
Originally from Liverpool, Cpl Wainwright married his wife in August 2012 and later settled down in Elgin, where she is from.
He is also survived by his parents William and Helen, and sisters Gillian and Hayley.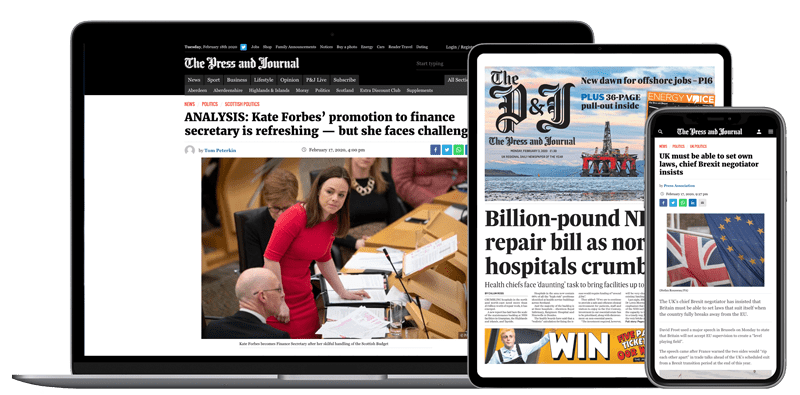 Help support quality local journalism … become a digital subscriber to The Press and Journal
For as little as £5.99 a month you can access all of our content, including Premium articles.
Subscribe