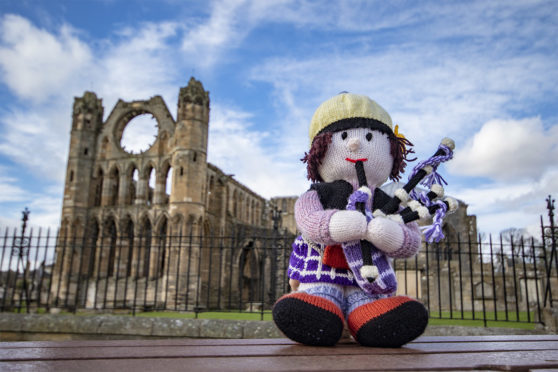 A knitted musician has been dispatched on an adventure across Moray to showcase the region's attractions ahead of one of its biggest events.
Morag the piper is a member of the hand-made group, commonly known as the "smallest pipe band in the world", which has traditionally appeared at Piping at Forres.
This month, the performer has been exploring the north-east to highlight other landmarks for tourists and competitors to visit while in the area.
The piping festival will be held in Grant Park for the final time next month after being a fixture on the calendar since 2013.
Now organisers are eager to use the last event to show the range of sights across the region to encourage visitors to return once the pipes have gone.
Crowds of more than 20,000 people have attended the competition in previous years.
Joanna Taylor, a director of organisers Forres Events, said: "We just wanted to have a bit of fun, particularly as we are in the last year and in the time we have been operating we've seen how Moray has really found its place on the map.
"Piping at Forres has played its own small part in that but what has come to the fore is that there is such a rich and diverse offering here."
Morag is just one of the knitted pipers that have become synonymous with the event after being crafted by Sharon Robertson from Varis Crafts, which is based in Forres.
Pictures of the piper's travels will also be shared on the event's website and Facebook page with people given the opportunity to win tickets to the event.
Laurie Piper, operations manager at Moray Speyside Tourism, said: "Morag's travels will offer the chance for people to see some of our finest views, most popular attractions and best kept secrets.
"No matter where Morag is to be found, I'm sure she'll be having a great time."
Piping at Forres will be held on June 30.
More details are available online at www.pipingatforres.com.