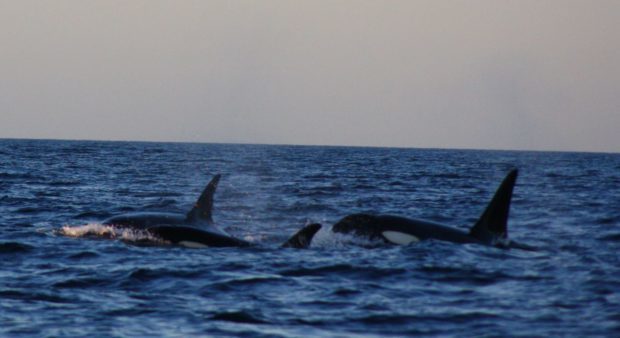 Sea life enthusiasts have been treated to a rare sighting of killer whales off the coast of the north-east.
Stunning pictures were captured of the pod of seven orca in the Moray Firth as the sleek mammals swam towards the North Sea.
Sea Watch Foundation spotter Alain Airey regularly keeps his eyes trained on the water for sightings of whales and dolphins.
And when the pod was seen breaking the waves about two miles off the coast of Lossiemouth, the enthusiast made contact with tour operator North 58 Sea Adventures to get a closer look.
Once in the area, the vessel Privateer cut its engines so as to not disturb the whales.
Yesterday, Pippa Low, operations director of North 58 who was on board, explained the sightings of the mammals are becoming more common.
She said: "We are certainly seeing them more and more often – especially in the north-east area. Whether that's a change in their distribution or because we've just got more eyes on the water would be interesting to know.
"We managed to identify this pod as one that has come down from the Iceland area.
"There's a pretty good network of wildlife spotters in the area so when Alan saw them then the word spread pretty fast and we went out to find them."
The vessel monitored the whales for about 30 minutes – during that time they repeatedly leapt out of the water before crashing back into the sea in a practice known as "spyhopping".
Mrs Low added: "That's often a sign of curiosity – they were maybe just having a look at us to see what we were doing, and it's also a play tactic and there were a few of them doing that.
"They also do it when they are looking for prey. We had a very tired seal come up to us so we are fairly certain that they were chasing it."
A pod of six orca were spotted in the Moray Firth about two years ago, the first time a group that size had been seen in the area.
The whales are predominantly found about 60 miles north in the Pentland Firth and Scapa Flow areas.
The Sea Watch Foundation has organised an orca week watch event, which will run at Duncansby Head in Caithness from Saturday, May 26 until Saturday, June 2, where volunteers will be stationed to look for the stunning creatures.