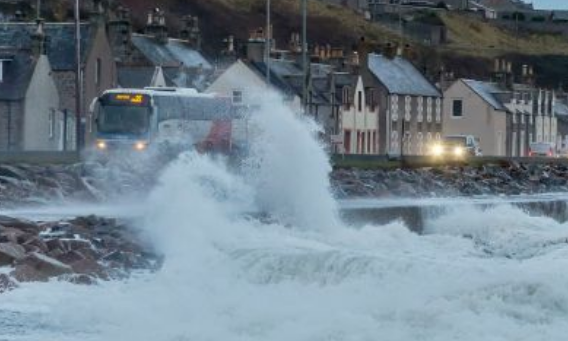 A flood-hit Moray coastal village could soon be classed as vulnerable by environmental experts enabling it to access funds for protection measures.
Homes in Portessie has been washed out three times in little more than five years by high tides.
In January that led to uproar as it emerged the community was to miss out on flood protection funding from the council because it was not deemed as "at risk" by Sepa.
The organisation's criteria prevented the village from being considered for a scheme because it had less than 50 homes.
However the environmental protection organisation has now revealed it is considering adding the community to its list of potentially vulnerable areas as part of the National Flood Risk Assessment, which has been backed by Moray Council.
This will mean the village is eligible for funding in the future from both Sepa and the council.
Yesterday Councillor Tim Eagle, Buckie ward, said the decision would help provide some reassurance to the beleaguered villagers that their concerns were being listened to.
He said: "Local residents have understandably expressed concern about flooding. I very much hope that this announcement goes some way to alleviating that anxiety.
"However, we have to accept that without extra support from the Scottish Government it will be very difficult for Moray Council to carry out all the works we would like to undertake to protect our coastal communities.
"It is a hugely expensive business and the local government funding package we receive does not seem to take into account the extra costs councils with long coastlines, like Moray, incur in protecting their communities."
It is also proposed that the Potential Vulnerable Area status afforded to Newmill be extended to include Keith in recognition of a surface water problem.
The authority is currently developing a surface water management plan for Moray and Keith has been identified as a priority area within this.
Moray MP Douglas Ross added: "It is very important that residents in our coastal communities are provided with as much reassurance as possible when it comes to flooding."