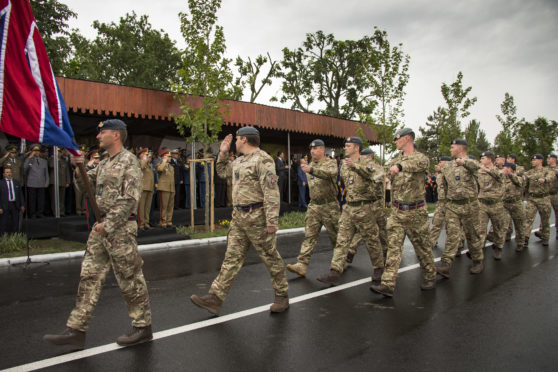 A detachment of RAF personnel from the north-east have taken part in a moving ceremony to remember Eastern European comrades.
Crews from RAF Lossiemouth are currently in Romania to take part in a Nato mission to protect the sky above the Black Sea region.
While there, 18 personnel took part in a parade through the city of Buzău to remember men and women who have died serving Romania.
The moving ceremony began at a cemetery containing the graves of more than 9,600 personnel from several nations who served during both world wars.
Typhoons from the Moray base then provided a spectacular flypast for the event with the local air force.
Flying officer Jennifer Scalisi-Cain said: "Representing the UK Armed Forces, marching in a beautiful Romanian city, in front of all these smiling locals with fellow members of the RAF and military personnel from across Europe is an experience I will never forget."
The parade was scheduled to coincide with the country's Heroes's Day – which is organised to recognise national figures at military and religious landmarks.
Personnel representing other Nato nations, including Italy, Turkey and Canada also took part in the event.
A total of 635,000 soldiers died serving Romania during both world wars. This year the country celebrates its centenary following the union of Transylvania, Bessarabia and Bukovina.