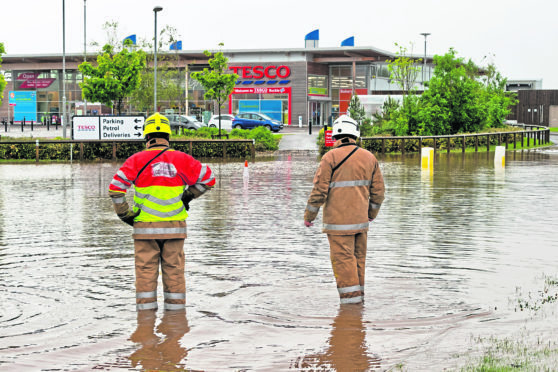 A primary school and a historic church in Buckie are to be protected from flooding as part of a £700,000 drainage improvement project.
Storm conditions have proved too much for drains in parts of the coastal town in the past.
But the works beginning on Monday – and lasting for the next six months – will hopefully prevent that from happening in the future.
The scheme will be focused on the area around the 19th century St Peter's Church and the nearby St Peter's Primary School.
Scottish Water will improve the sewer network between Sutherland Crescent and St Peter's Terrace by increasing the capacity of the pipe, which should lessen the risk of it overflowing during heavy rain.
Urgent investigation called for as more homes are planned for flood-hit area of Buckie
Buckie councillor Gordon Cowie last night welcomed the scheme, despite the likelihood of disruption as roads are dug up.
Mr Cowie said: "This is work that has to be undertaken as the drains are very prone to overflowing, especially after a lot of rain.
"Hopefully this will alleviate the problems people have had with the sewers there.
"Parents I have spoken to are also pleased that the bulk of the work near St Peter's primary has been planned for the school holidays."
Scottish Water yesterday confirmed the details of the project, which will eventually result in 820ft of sewer being replaced.
St Peter's Terrace will be closed from Monday until the end of June to allow the new larger diameter sewer pipe to be laid from St Peter's Primary School to the end of the road.
There will be three-way traffic lights on St Peter's Road to allow a water main to be diverted at the same time.
The road will be closed up to St Andrew's Square for the duration of the school summer holiday, from the start of July to mid-August, as a second phase of work is performed.
St Peter's Road will then be closed from mid-August until September, with a final road closure on Sutherland Crescent throughout October.
Several manholes along the route of the new sewer will also be replaced.
Gavin Steel, of Scottish Water, said: "This work is important to ensure our sewer network can continue to serve the community, while minimising the risk of flooding during storm conditions.
"We understand that the location of this project will cause some disruption for residents and the work has been planned to reduce this where possible."