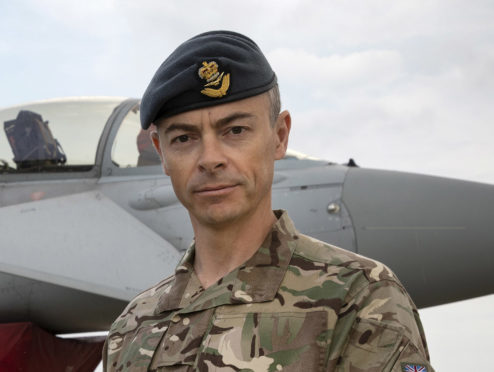 Air crews from the north-east have forged friendships with comrades in Eastern Europe while on a mission there to defend the region.
About 50 personnel from RAF Lossiemouth are currently in Romania as part of Nato's air policing mission in the area.
Four Typhoons from Moray arrived in the country at the beginning of the month and are expected to remain there until the end of August.
The jets from II Squadron have already been called into action – scrambling to escort a Russian spy plane that was approaching Romania within days of the crews arriving in the country.
North-east air force personnel take part in moving remembrance ceremony while on Eastern European mission
Wing Commander Chris Ball, officer commanding 135 Expeditionary Air Wing, said: "Nato stepped up this mission as a direct response to the illegal annexe of Crimea – which is a very important part of the Russian nation and economy.
"It's a peacetime mission, so we don't have a named enemy, but yes, we would expect most of the activity to come from the Russians – as it is at home.
"We don't expect anything to happen. We're here as a presence, to visit and learn from our Nato allies in the region and elsewhere."
The mission has required the creation of a headquarters which manages personnel pulled from across the force. The crews from Lossiemouth have joined about 100 others in Romania.
While on deployment, the Scots have marched with local troops as part of the country's Heroes' Day – celebrating national figures.
Training exercises have also been run with American and Bulgarian air forces to share knowledge and build bonds.
Wg Cdr Ball said: "The Romanians have really enjoyed having us here. When the personnel marched on the parade, they got a fantastic reception from the people lining the streets.
"A lot of the mission is about learning how to integrate all of our personnel together and also with people from another country.
"For some of the personnel, it might be their first deployment overseas too. There's always a lot of learning to be done."
Nato's enhanced air policing mission involves allies operating a rotation system to defend the sky above Baltic and Black Sea regions on behalf of countries who do not have the means to do it themselves.
Canadians are due to take over from the British deployment at the end of August.